Hyderabadi Vegetable Dum Biryani
Hyderabadi Vegetable Dum biryani brings a big smile on my face. My mother makes the best biryani and she makes it with a lot of love and care. This authentic recipe is not a hush – hush affair, take your own sweet time and trust me it's worth it.
Hydrebadi dum biryani is always slow cooked and on dum.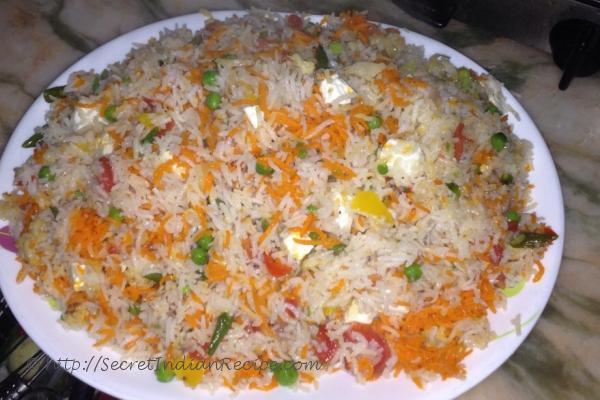 Ingredients:
Basamati rice 1 cup
Jeera seeds 1 tbs
Elaichi 2
Tej pata 2
Launge 3
Dalchini 1 stick
Onions (sliced) 2
Green peas 1 cup
Potatoes 2
Mushrooms (sliced) 1/2 cup
Green chillies 3-4
Ginger and garlic paste 1 tbs
Salt to taste
Turmeric powder 1/2 tbs
Red chilli powder 1 tbs
Ghee 2 tbs
Curd 1 cup
Cottage cheese 1 cup
Directions:
Clean the rice in running water and soak it in water for 30 minutes.
Cook the rice till its ¾th done. They should not be fully cooked but almost cooked.
In a clay pot , known as handis or if you have an aluminum pot, heat the ghee in the handi.
Add all whole garam masala: Jeera seeds, Elaichi, Tej pata, Launge, Dalchini. And cook them till they crackle.
Now add the onions. Fry the onions till golden brown.
Add the green chilli, ginger and garlic paste and give it a stir.
Then add the turmeric powder, red chilli powder and salt to the mixture.
Now add all the vegetables and stir it for 2 minutes and add the curd to it.
When your vegetables are half cooked add the rice to it with ¾ cup of water and cover it with a lid.
Cook it on medium heat for about 20 minutes.
Add the cottage cheese and dry fruits to your biryani, give it a good stir but don't mash it.
Footnotes:
Garnish it with fresh coriander and serve it hot with your choice of raita. Happy Cooking!