Idichakka Thoran (tender Jackfruit Stirfry)
Idichakka is tender jackfruit and unlike usual jackfruit preparations, this one uses the seeds and flesh of the jackfruit together without any chopping. Since the seeds are tender when mashed after boiling, they disintegrate into shreds and resemble a fibrous texture. The taste of this jackfruit is very different from the mature raw jackfruit. And this jackfruit is called idichakka in Malayalam which means the jackfruit that is pounded or beaten. This is because traditionally this jackfruit was boiled and pounded using a mortar and pestle hence the term 'idi' or beat it up is associated with this jackfruit. We don't pound it these days so we boil and run it through a grinder coarsely. We also have this like a tea time snack though it is actually a curry. Since jackfruit is in abundance where we come from, people cook this jackfruit and have it in a saucer for tea.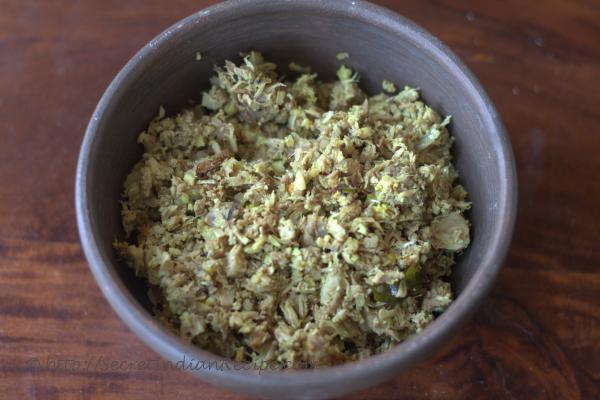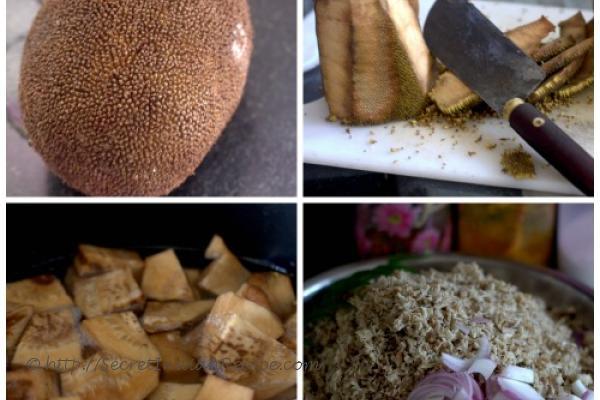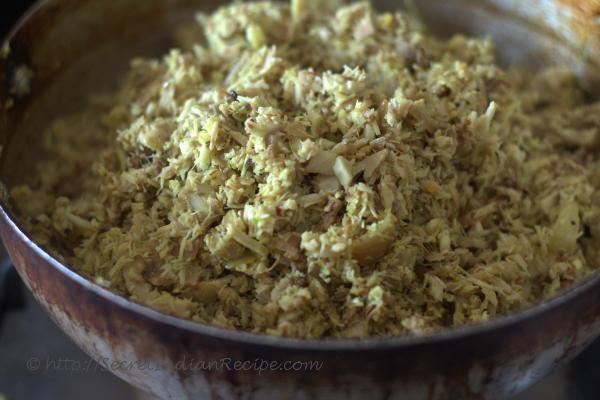 Ingredients:
Idichakka- 1 medium sized one (750 g)
Onions- 2
Green chilies- 3
Garlic- 7 cloves
Curry leaves- 6-8 leaves
Turmeric powder- 1 tsp
Chili flakes- 1 tsp
Grated Coconut- 1/2 cup
Salt- to taste
Coconut oil- 4 tbsp
Mustard seeds- 1 tsp
Directions:
Apply oil on your hands before cleaning this jackfruit. Peel the outer skin of the jackfruit and cut them into medium sized chunks.
Boil these chunks in 2 cups of water with a pinch of salt for 5 - 10 minutes. Check how cooked the jackfruit is, you should not overcook it should be half cooked.
If overcooked, this jackfruit will get mushy when pounded and this will not give the desired fibrous texture.
To check how cooked it is if you poke the jackfruit it should look soft on the outer core and should be a bit uncooked when you pierce to the center of the piece.
Drain the water when the jackfruit is half cooked. Cool it and then process in the grinder jar. Use a grinder jar and not a blender jar.
Just pulse the jackfruit because the intention is to get shredded jackfruit.
Heat oil in a wok and throw in the mustard seeds and curry leaves. After 2 minutes after the mustard splutters, add chopped onions, sliced garlic and green chilies.
Saute till the onions soften and add the chili flakes and turmeric powder. After sauteing the spice powders for 2 minutes add the shredded jackfruit and salt.
Cover the wok with a lid and cook by stirring the jackfruit every 4 minutes. Some jackfruit takes time to cook like mine did this time.
It took 20 minutes from the adding of jackfruit to cook it perfectly. Some jackfruit cook faster and this is something you need to watch and decide.
Perfectly cooked jackfruit will be soft when you bite into it. Add the grated coconut after the jackfruit is cooked enough and stir to combine the coconut and jackfruit.
The coconut need not be cooked for long so take the idichakka thoran off the flame after 4-5 minutes of adding the grated coconut.
Serve with rice or have it just like a snack.