Idiyappam And Egg Curry With Coconut Milk
Idiyappam is a common breakfast fare in Kerala. It is often teamed with egg roast, vegetable stew or chicken stew. An egg curry cooked in coconut milk is yet another beautiful accompaniment to this dish.
Idiyappam and an accompanying stew used to be a part of a seven course meal during family feasts. Most Christian festivals in Kerala have extensive feasts associated with them and idiyappams always have a place in these.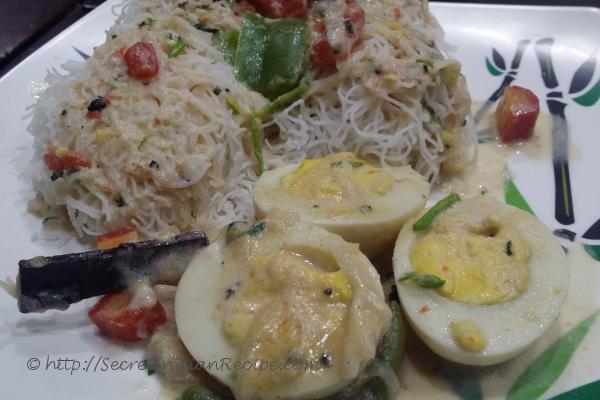 Ingredients:
Rice flour- 250 grams
Salt to taste
Sugar to taste
Roasted cumin powder-1tsp
Boiling water-1-2 cups
Hard boiled eggs -6
Coconut cream-1/4 cup
Thin coconut milk-1+1/2 cup
Cardamoms -3 (crushed lightly)
Cinnamon sticks -2 of an inch each
Cloves-3
Peppercorns -1tsp slightly crushed
Red onions thinly sliced-1 cup
Ginger finely chopped-2tbsp
Garlic finely chopped-1tbsp
Green chillies slit-3
2 ripe tomatoes quartered
Coconut oil-2 tbsp
Grated coconut, slightly sweetenedk
Coriander leaves chopped
Potatoes peeled and cubed -2 medium sized
Coriander powder-1+1/2 tsp
Capsicum diced-1
Directions:
To make the idiyappams, we need to first make a soft dough with the rice flour. Mix the salt, sugar and cumin into the rice flour. Pour hot boiling water into this and mix it with a spoon. Make a dough out of this.
The dough needs to be put through an idiyappam press, which is the same as a "chakli" press. The plate with the smallest holes is the one we need to use.
Set a steamer or an idli pot on the stove with sufficient water. Oil the idli plates lightly.
Keep some grated coconut sweetened.
Press the stringhoppers into the idli moulds. Layer with a tablespoon of the sweet coconut and press another thin layer of the dough on top of this coconut layer.
Effectively we would now have a ball of strings with grated coconut inside.
Steam this for about 10 minutes or more. After it is done, serve hot with the egg curry.
To make the egg curry, deshell the eggs and cut into two.
Heat the coconut oil in a hard bottomed pan or a kadai. Temper the oil with the whole spices.
Sauté the onions but do not brown them. Add the ginger, garlic and green chillies and sauté for a few minutes. Add the coriander powder.
Add the potatoes and salt and sauté again.
Pour in the thin coconut milk and allow the potatoes to boil till soft.
When the potatoes are almost done, add the tomatoes and capsicum and allow this to boil for 5-7 minutes more.
Check the curry for salt and spice levels and adjust if needed. The gravy will now ideally be quite thick. Pour a little warm water and adjust the consistency.
Now add the eggs and simmer for 5 minutes.
Pour the coconut cream and mix well. Do not boil the gravy anymore. Garnish with chopped coriander leaves. Allow the curry to stand for 30 minutes before serving.
Footnotes:
The authentic egg curry in Kerala does not have capsicum and the cilantro for garnish. But they definitely add an edge to this delicate dish. Alternately, one can sauté some curry leaves with the onions and avoid the capsicums and cilantro.
Other Indian Recipes that you may Like !