Idly With Coconut Chutney
Idly is the most preferred breakfast recipe in south India. It is a no fat recipe and full of carbohydrates needed for a good start of the day. If served with Coconut chutney, it becomes even better. Coconut has good fat that controls the bad cholesterol in body and makes our muscles stronger.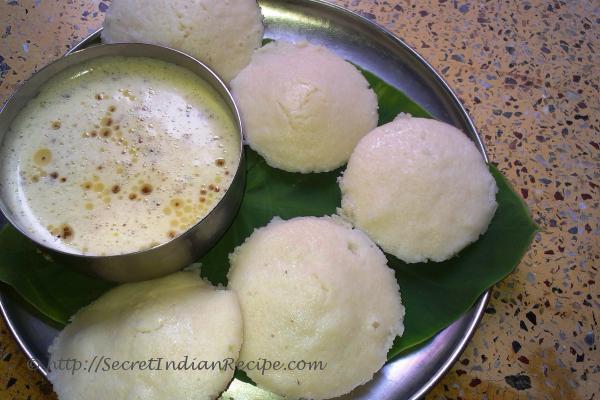 Ingredients:
(For Idly)
Rice – 1 cup
Urad dal (black lentil) – ½ cup
Salt - ½ tablespoon
(for Coconut chutney)
Coconut – 1 piece
Green chilli – 1 piece
Channa dal (split Bengal gram lentil) - 1 tablespoon ( roasted)
Rai (black mustard seeds) – ¼ tablespoon
Curry leaves – 4-5 leaves
Refined oil – 1 tablespoon
Salt – ¼ tablespoon
Directions:
To make idly soak rice and urad dal in two different bowls for 5-6 hours. Afterwards grind them together, add salt and leave it to ferment overnight.
In the next morning put the batter into greased idly moulds and steam for 12-15 mintues. Serve with coconut chutney.
To make coconut chutney take peeled coconut, green chillies , roasted channa dal and salt and grind into a smooth mixture.
Heat oil in a small pan add the curry leaves and rai and then tamper the coconut chutney. Serve with Idly.
Footnotes:
Do not over ferment, or else it will turn sour.
Make the chutney just before serving or else you can keep it in refrigerator for one hour after making it