Ilish Matha Diye Bandhakopi [ Cabbage Cooked With Hilsa Head ]
Hilsa is a palatable fish. It is one of the main fish used widely in West Bengal and Bangladesh. Unlike other fish, Hilsa's head is equally relished by all. Hilsa head cooked with cabbage tastes best with steaming rice. Hilsa or other fish lovers will definitely enjoy this dish.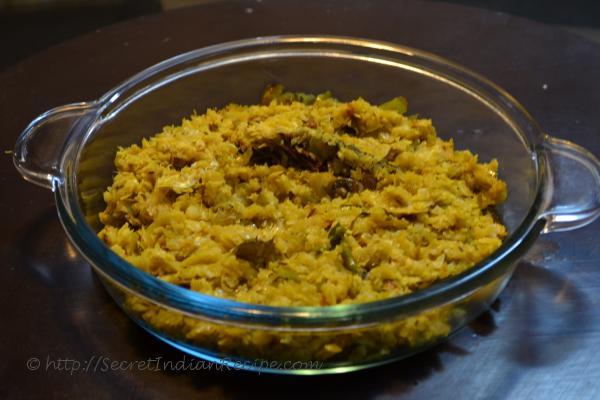 Ingredients:
1. Hilsa head chopped ( 1 piece),
2. Cabbage fully chopped ( 2 1/2 medium sized),
3. Ginger garlic paste (1 teaspoon),
4. Cumin seeds ( 1 teaspoon)
5. Turmeric powder ( 1 teaspoon),
6. Salt ( 1 1/2 teaspoons),
7. Green chilies (3-4 pieces).
8. Mustard oil for cooking.
Directions:
1. Heat 2 teaspoon of mustard oil in a kadhai and then cook the Hilsa head.When it cooked and becomes crisp then remove and keep aside.
2. Add 2 teaspoons of mustard oil in a kadhai.Add ginger garlic paste and cumin seeds and saute for some time. Add the cabbage and then cook slowly.
3. Stir for 10 minutes and then add little water if necessary ( just to make the cabbage soft). Add turmeric powder and salt to it.
4. Add the Hilsa head and then add slit green chillies.
5. Cook for 5 minutes and then put off the gas. Cover with a lid. The smell of Hilsa will dominate over the cabbage.
Serve with steaming rice.
Footnotes:
Use of mustard oil in a must. Use of water while cooking is not a mandatory. It's better to cook the cabbage covered with a lid upon.
Other Indian Recipes that you may Like !