Ilish In Mustard Gravy(hilsa Fish)
Ilish or Hilsa is the fish that itself created a genera of cooking in Bangla Cuisine. In North America, Bengalies substitute Hilsa with the fresh catch of Shad fish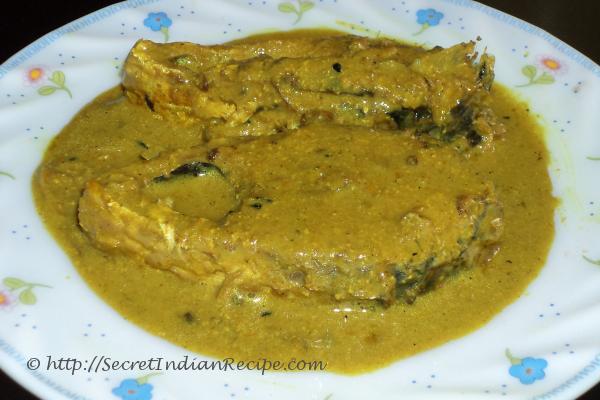 Ingredients:
For the Paste:
Mustard 4 Tablespoon soaked in little lukewarm water
1 green chilli chopped
pinch of salt
For the cooking:
Hilsa or Ilish, belly pieces - 500 grams
Nigella Seeds - 1/4 tablespoon
mustard oil - 4 tablespoon
Green Chillies slit at the base - 4-5
Turmeric Powder - 1/2 tablespoon
Red Chilli Powder - 1/2 tablespoon
2 cups Water
Salt to taste
Directions:
for paste :- Take all the ingredient mentioned above ,Put in a grinder and make a smooth paste, strain and retain the liquid, discard the pulp
for cooking:- Rub the fish with little salt and half of the turmeric powder and keep it aside
Now in a Wok or Kadai or deep pan heat 2 tablespoon mustard oil till it smokes or change colour
Add the Nigella seeds.
Pour in the Mustard Paste extract, add Turmeric Powder, Red Chilli Powder and some water
Add the slit green chillies and bring it to boil.
Slowly add the fish smeared with turmeric and salt into the boiling gravy
Slow down the heat, cover and cook for 7-8 minutes
Uncover, check the consistency and adjust salt.
Transfer to a serving platter and serve it with steamed rice.
Footnotes:
Tip 1: If the fish is not very fresh and finger dips in while pressing, deep fry the fish for 30 seconds and then put into the boiling gravy. Tip 2: Please do not substitute mustard oil with any other oil, that will ruin all the effort.
Other Indian Recipes that you may Like !