Illish Maach Narkel Diye(hilsa Fish In Coconut Curry)
Illish or Hilsha fish is considered as richmen's food in Bengal. The reason being it is the most costly and it is available for very limited period. It is mainly found in rainy, mid June till mid August.It is also considered pious and Bengalis offer Illish to 'Devi Durga before having it for the first time in the season. It is a delicacy, although the recipes for Illish are easy to make. Illish maach narkel diye is the basic way to make illish.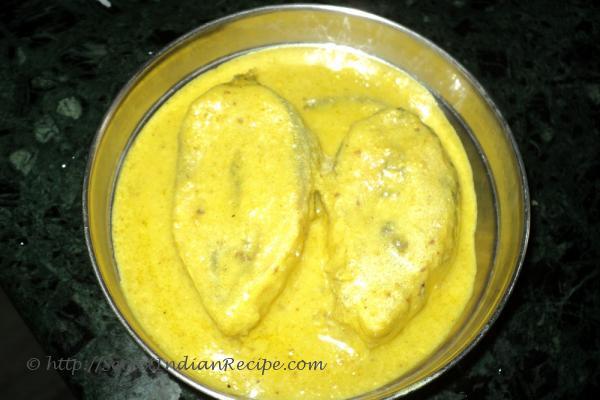 Ingredients:
Illish (Hilsa fish) 250 grams (9 ounce)
Coconut ½ coconut
Sorshe (yellow mustard paste) 2 and ½ tablespoon
Garlic paste 2 tablespoon
Green chillies 4-5 pieces (cut in halves)
Turmeric powder 1 talespoon
Mustard Oil 4 tablespoon
Salt 1 tablespoon
Water 2 cups
Directions:
First wash Illish fish thoroughly and drain the excess water. Grate the coconut and by adding water make a thick paste in the grinder.
In a bowl take the Illish, add coconut paste, mustard paste, garlic paste, green chillies, turmeric powder, mustard oil and salt and mix them together.
Put Pan or Karahi in stove on high flame and pour the above ingredients. Add water and bring the gravy to boil.
Once it starts boiling, slow down the flame.
Cover the karahi with a lid and let it cook for 15 minutes. Stir very carefully to check if the fish has been done or not.
Once fish is done, Illish in narkel diye is ready. Serve it hot with pain rice.
Other Indian Recipes that you may Like !