Indian Hakka Noodles (chowmein)
Out of the many Chinese vegetarian recipes, Hakka noodles is my favorite. Chinese Hakka noodles as popularly known in India, is not only popular option in many restaurants but there are also many street vendors cooking up some lip smacking Chinese recipes. Here is my take on the famous Veg Hakka Noodles.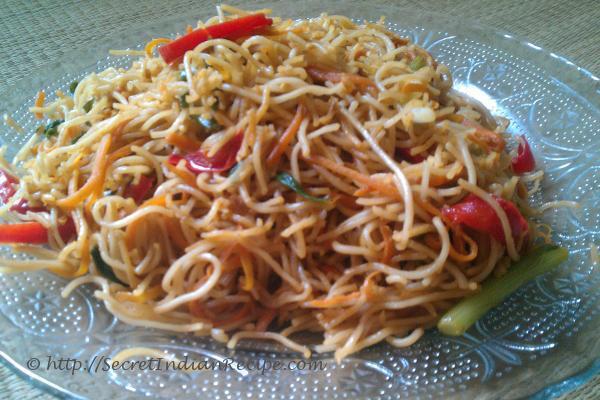 Ingredients:
1 Packet veg Hakka Noodles
1 Red Capsicum (Bell pepper)
1 Yellow Capsicum (Bell pepper)
3 Spring Onions
1 Carrot
1 Green Chili
4 Cloves of Garlic
2 Tbsp tomato ketchup
1 Tbsp Chinese Chili Vinegar
2 Tbsp Light Soya sauce
1 Tbsp Green chili Sauce
2 Tsp sugar
Salt to Taste (About 2 Tsp)
Directions:
Few hours in advance- Boil the noodles as per the instructions on the pack and cool them by refrigeration. Using cold noodles will help the noddles retain their firm texture and avoid becoming soggy after cooking.
Thinly Julienne all vegetables including garlic
Heat oil in a wok or a deep pan. Add Garlic and slit chili.
Add the vegetables one by one in this order- Spring Onions (onions only), carrots and bell peppers. Cook these vegetables on high heat for a few minutes till they are partially cooked and crisp.
Add cold noodles, salt, Sugar and stir fry for a few secs. Add the greens of the spring onion followed by all the sauces and vinegar.
Stir fry on high heat for about a minute or till the sauces are evenly mixed. Check for salt and sweetness.
Serve hot with tomato/ chilli sauce.
Footnotes:
Boiled shredded Chicken or scrambled egg can also be added to this dish