Boondi & Rabdi Stuffed Pancakes (chocolate Pancakes Stuffed With Boondi&rabdi)
I used BOONDI and RABDI but you can use any filling your kids love. Srikhand is also a great alternative
But BOONDI and RABDI stuff pancakes makes a delightful dessert and my kid loves it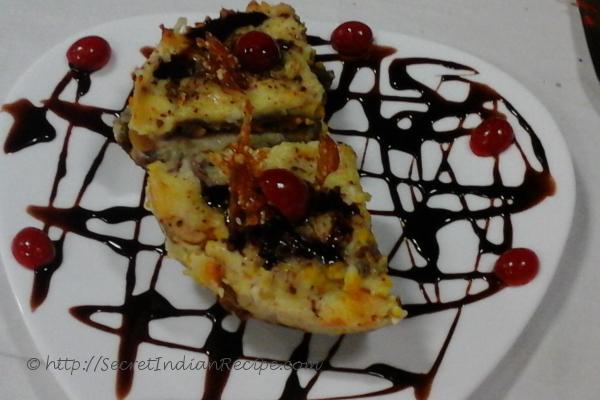 Ingredients:
Boondi ladoos - 6 medium
Rabdi -- 4 teaspoon
Maida -- 1 -1/2 cup
Baking powder - 1 teaspoon
Soda bicarb - 1 teaspoon
Butter milk - 3/4 cup
Powdered sugar - 2 table spoon
Raisins - 1 table spoon
Salt to taste
Cheese greated -- 4 table spoon
Chopped badam - as required
White sauce - 4 tablespoons
Cardamom powder -- 1 teaspoon
Melted chocolate - 3 teaspoon
Directions:
Preheat oven to 180°c.
Sift refined flour, baking powder and soda bicarb into a bowl .
Add butter milk, melted chocolate , salt , powder sugar and whisk to make a smooth paste .
Heat a non stick pan and pour a ladlefuls of butter and spread it around .Cook till the underside is browned .
Flip and cook till the other side is cooked similarly . Transfer onto a plate and set aside . Cook other pancakes in the same way
Take boondi ladoos in a bowl and break them .
Take a spring from cake tin . Trim the pancakes to fit into the tin . Keep one pancakes at the base of the tin , spread some of the boondi layers and rabdi layers and spread of the chopped badam and raisins stuffing over it .
Cover with pancakes and spread some more of the stuffing layer by layers
In the top spread them white sauce , grated cheese and sprinkle some cardamom powder keep the tin preheated oven and bake for ten minutes .
Removed from oven and unmould . cut into the wedges and serve hot