Indian Style Mexican Nachos
Crispy, crunchy and yummy!! Bring Mexico to home.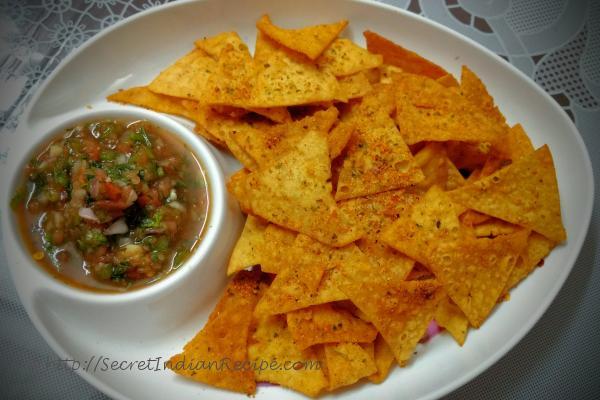 Ingredients:
1. Makai flour – 1 cup
2. All purpose flour (maida) – 1 cup
3. Salt – to taste
4. Cooking Oil – 2 Tspn + for frying
5. Water (luke warm) – for making dough
Directions:
1. In a bowl, mix makai flour, maida, salt and oil and make soft dough.
2. Heat oil in a pan. Lower the flame once it's hot.
3. Simultaneously, make a big round of a portion of the dough and carve it into a thin big poori (as big as the rolling board) with the help of a rolling pin.
4. Prick the poori nicely with the help of a fork so that it does not puff while frying.
5. Cut all the sides of the big poori to make a square shape and then vertically cut it in 3-4 parts using a knife. Then cut trianglular shapes from each strip.
6. Fry all the triangles from both the sides and keep on flipping it in intervals. Cook until light brown and crisp.
7. Take it out on a paper towel. Cool it down. Season with the spice of your choice (e.g. peri peri masala) and a little salt. Shake well. Nachos are ready to serve.
Footnotes:
Along with sprinkling spices, add some hot cheese sauce to the nachos, and enjoy.