Inji Curry/puli Inji (sweet And Sour Ginger Pickle)
Inji curry is a very popular dish which can never be avoided in Kerala style sadhya. We use it as a thodu curry (means just touching and tasting it up with your fingers). This is a very healthy dish too as the medicinal values of ginger is beyond explanation. In order to avoid stomach problems after the heavy meals (sadhya) inji curry is served with every sadhya.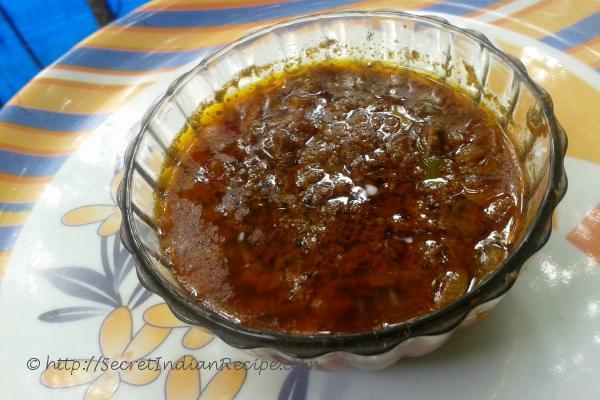 Ingredients:
Ginger -100 grams
Tamarind –a small lemon sized.
Green chilli, chopped - 3 nos.
Curry leaves - few.
Chilli powder -1 tablespoon
Turmeric powder -1/4 teaspoon
Asafoetida –a pinch
Salt –as you need.
Mustard seeds -1 teaspoon
Oil – 5 tablespoons
Fenugreek seeds – a few
Red chilli - 2 nos.
Jaggery-1/4 teaspoon (optional)
Directions:
First chop the ginger finely. (You can use a grater if you want or you can grind it into a paste using a mixer grinder.)
Switch on the stove and place a frying pan on the stove.
Add oil into the pan and heat it.
Fry the ginger in the oil until it turns crispy.
Take out the fried ginger from the oil and keep it aside.
Gently crush the fried ginger in a mixer grinder (as i had chopped the ginger into pieces).
Then in the remaining oil, add the green chillies and fry it until it is crispy.
Take the fried chillies out from the oil and keep it aside with the crushed fried ginger.
Add the fenugreek seeds followed by mustard seeds, red chilli and curry leaves into the remaining oil.
Sauté it well.
Reduce the flame of the stove.
Add the turmeric powder, chilli powder and asafoetida into it and sauté until the raw taste of chilli powder is gone.
Then add the tamarind water into it and bring it to boil.
At this stage, add the crushed ginger and fried green chilli into the gravy and cook until the gravy reaches a thick consistency.
You can adjust the spiciness and sour taste of curry and make it sweet by adding a pinch of jaggery into the curry
Footnotes:
You can have this dish with dosa,idly,rice or even appam.