Instant Dodha Burfi
As all know Dodha burfi is most popular in Delhi. I love this burfi and can distinguish its favorite among other sweets also. I always try to make easy desserts and this burfi is one of such recipe.. All ingredients are easily available in your kitchen counter and is really quick to make.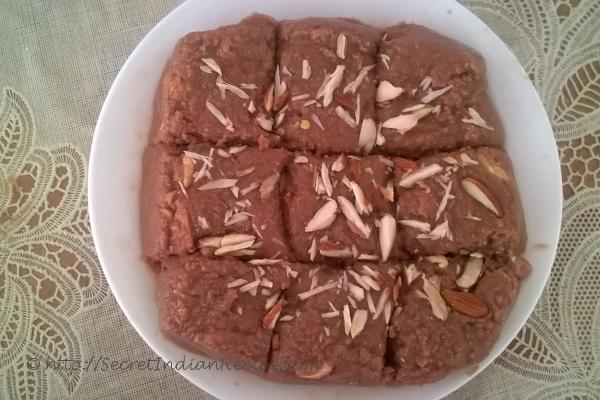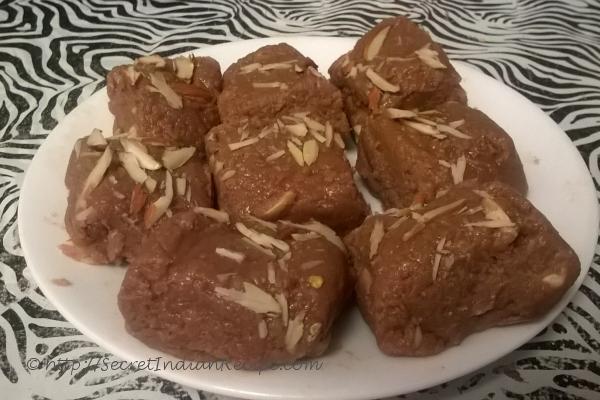 Ingredients:
Condensed Milk: 1 tin/Can
Ghee: 3tsp
Curd: 2tsp
Roasted Upma Sooji: 2tbsp
Cashew: 2tsp
Chopped Almond: 3tsp
Directions:
1. Add and mix all ingredients(except cashew and almond) together in a pyrex bowl.
2. Microwave this mixture for 2min, remove the bowl, mix and then again microwave for 3min.
3. Again remove and mix. then back to microwave for another 3min. Finally the mixture looks like semi hard texture. Put Cashew on this mixture and mix properly.
4. Grease the plate with Ghee and spread the mixture into a greased plate. Press evenly with the help of knife from all the sides. Sprinkle the chopped almond on it.
5. When it is warm Cut then into desired shapes.
6. Let it cool and enjoy chewy barfi.
Footnotes:
----Can use Dahlia inspite of Sooji to get more granular type of barfi. ----Inspite of microwave can do in pan over stove.