Instant Khaman Dhokla
Khaman Dhokla is a delicious , soft , spongy , savory steamed snacks from the Gujarati Cuisine. Made from gram flour , this nutritious steamed appetizer is mildly sweet and tangy and a bit spicy in taste. Can be had at any time of the day , as a light snacks or as a side dish. It is usually accompanied with Tamarind and dates Chutney or the Coriander Chutney.
The actual method of making Khaman Dhokla calls for allowing the gram flour and yogurt batter to ferment overnight , steam the batter , cut the steamed cake into pieces and then temper it. I do follow this method oftenly , but at times when guest arrive unannounced or i am in short of time or have no veggies in my kitchen pantry , this instant khaman dhokla recipe comes to my rescue.
This instant recipe saves time of overnight fermentation and can be made under 20-25 minutes. This is a vegan , gluten free and onion garlic free recipe. Requires minimal and easily available ingredients. This is my Sister -in -law's recipe . The reason behind the fluffy and soft texture of this khaman is use of baking soda just before steaming the batter and the use of water in the tempering mixture.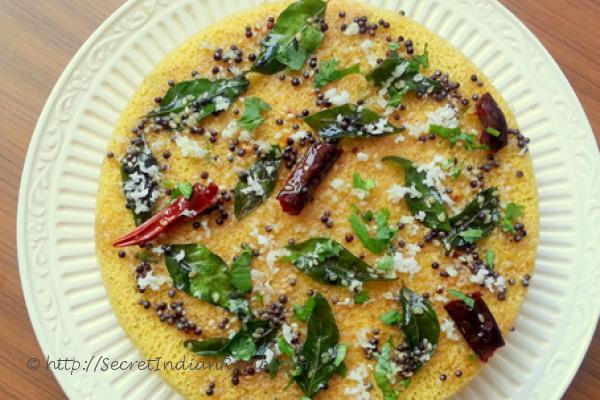 Ingredients:
For the Batter ||
1 1/4 cup gram flour / besan
3/4 cup water
2 lemons
3 tsp sugar
1/2 tsp salt
1/2 tsp baking soda
2 green chilies
1/2 inch ginger piece
Oil for greasing
For tempering ||
2 tbsp oil
2 sprigs of Curry leaves( 10-15 leaves)
1/4 tsp Mustard seeds
1/2 tsp white Sesame seeds
1-2 whole red chilies (optional)
1 tsp Sugar
1 tsp lime juice
1/2 cup water
For garnishing ||
1 tbsp of scrapped fresh Coconut
1 tbsp of finely chopped fresh Coriander leaves.
Directions:
Method for preparing Dhokla batter:
In a bowl take 3/4 cup water , squeeze out juice of 2 lemons into it followed by addition of 3 tsp sugar and 1/2 tsp salt. Mix well and stir until the sugar dissolves in the water. Keep aside until use. Now grease the steamer pan / plates each with 1/2 tsp oil. Also add 2-3 cups of water in a steamer or pressure cooker and heat it on medium flame.
In another mixing bowl , take the gram flour , add crushed green chilies and ginger to it. Now add the prepared lemon juice from step 1 to this flour slowly to make a batter . The consistency of the batter should be such that it should have no lumps , is thick and flowing at the same time.
We will be adding the baking soda to the batter just before steaming it, so ensure the steamer or cooker is heated at least 5 minutes prior to placing the plates with batter to it. Now in 2-3 tbsp of warm water add 1/2 tsp of baking soda. Mix well and pour it to the batter. Stir the batter well to ensure the soda mixes evenly. The batter will rise in volume.
Immediately pour the batter to the greased plates or pan and place it to a preheated steamer or cooker in which water has already started boiling. You can place the dhokla plates to its stand and place it in a cooker. If using a pan without a stand in cooker, place a bowl filled with water below in the cooker with water and place the pan with batter over it , this ensures the boiling water from the cooker does not enter the pan
If using a pressure cooker , remove the whistle and cover the cooker tightly with its lid. Steam for 12- 15 minutes on a medium to high flame. Check the doneness by inserting a toothpick in the center of the dhokla. If it comes out clean, the dhokla is done. If toothpick has batter on it , steam it for 4-5 minutes more.
Once the khaman is warm , slide its edges with a butter knife, place a flat plate over the pan and invert it. If the greasing on the pan is good, the khaman will come out easily on the plate
Tempering for dhokla:
In a small non stick pan , heat 2 tbsp oil . Add mustard seeds to it. Once the seeds crackle , add the curry leaves and de seeded red chilly pieces followed by the sesame seeds .
Allow the sesame seeds to change their color slightly , now lower the flame and add 1/2 cup water to the mixture. Stir well , add sugar and lime juice. Give a quick stir and allow the tempering mixture to come to a boil .
Pour the tempering mixture evenly on the khaman dhokla
Garnish the dhokla with scrapped coconut and coriander leaves. Cut it into desired shapes and serve immediately .
Enjoy the deliciously soft , fluffy and moist khaman dhokla with Dates and Tamarind Chutney or the Coriander Chutney !