Instant Kothimbir Rava Dosa ( Coriander Semolina Pancake)
Rava Dosa is a popular South Indian breakfast and snacks. Unlike many other south indian dosas like masala dosa and plain dosa , the rava dosa does not require any fermentation and can be prepared in under 30 minutes . Rava dosa is generally made from rava (semolina) ,onions, chopped vegetables like carrot, capsicum , ginger and little amount of spices . There are many variations to rava dosa. Here I have tried to recreate the traditional South Indian breakfast and used coriander leaves as the dominant ingredient in the rava dosa. I have named this dish as Instant Kothimbir Dosa. Kothimbir means coriander in Maharashtra and North Karnataka regions. I have used equal proportion of rava and coriander leaves. The combination of spices like black pepper, garam masala, red chilly powder, turmeric and black salt with the freshness of coriander leaves makes this dish delectable. This is a pure veg satvik dish and can be had in fast. There is no onion and garlic in this dish. You can cook this dosa both sided thoroughly or cook only one side by covering the pan with the lid. In this recipe , I have used lid to cook since it speeds up the cooking process and reduces the cooking time.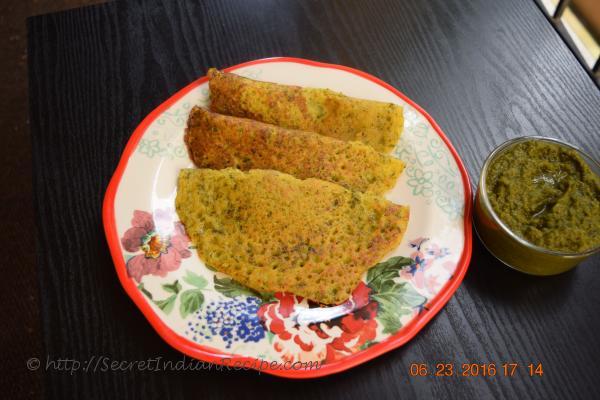 Ingredients:
3/4 cup Rava or Semolina
3 tbsps plain Yogurt
1/2 tsp black salt or as required
1/4 tsp Red Chilli powder
Pinch of Turmeric powder
1/4 tsp Garam masala powder
1/4 tsp Ground Black pepper
3/4 cup loosely packed Coriander leaves
1 tsp finely chopped tender and fresh Coriander stems
1 tsp finely chopped or grated Ginger
Directions:
Take semolina in a medium size bowl. Add plain yogurt, salt and add 3/4 cups water. Stir and mix . Leave it standstill for 15-30 minutes , preferably in a warm place.
Wash the coriander leaves 2-3 times with water and pat dry well using 2-3 kitchen paper towels. Finely chop the leaves. Add chopped coriander leaves, chopped coriander stems, chopped ginger, pinch of turmeric, garam masala powder, red chilli powder and black pepper into the semolina batter. Stir and Mix. Add a quarter cup or a little amount of water so as to form a thick yet pouring consistency rava dosa batter.
Heat a non stick pan. Drizzle about little less than a teaspoon of oil onto the pan and spread it well using a cut potato . When the pan is hot, lower the heat and pour a ladle of the rava dosa batter and spread it into as thin pancake as possible, using the back of ladle. Cover the pan with a lid and cook on low medium heat, for 3-4 minutes or till the top of the dosa turns light in color and soft . Remove the lid and drizzle some oil along the sides and over the dosa and cook till the base and the edges turn crispy, light and golden brown. Flip the dosa using a thin spatula and cook the other side for a minute or so till it becomes a little crispy. Flip again and fold the dosa into a half crescent moon shape and take it out on a plate.
Serve the kothimbir rava dosa hot with sambhar and coconut chutney or any green chutney.