Instant Semolina Dhoklas
When we talk about gujrati dishes the first thing that comes to our mind is Dhoklas.Its a light yet tasty dish.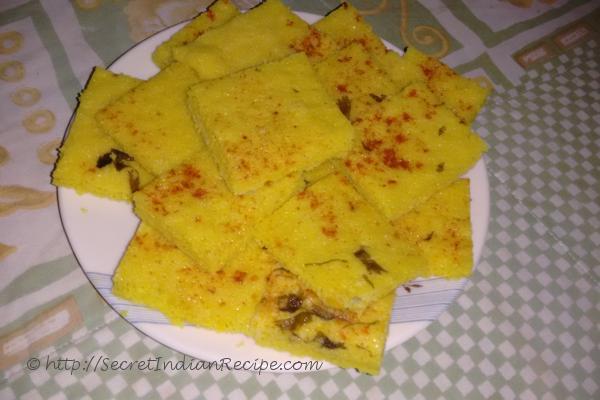 Ingredients:
Suji (semolina) - 1 cup
Fresh curd - 1 cup
Milk- 1 cup
Salt to taste
Soda- a pinch
Green Chillies- 2 pcs
Ginger- 1 inch
Red Chillie powder- 1 tsp
Turmeric powder- 1 tsp
Directions:
In a bowl take suji, mix it with milk and curd
Mix well to prevent lumps.
Add salt and turmeric powder. Add finely chopped green chillies and ginger.
Now add soda n mix it.
Now quickly pour d mixture in a plate.Sprinkle red chilly powder on it.
In a pan pour little water, keep a stand in the middle of the pan.
Keep the plate on a stand and cover the pan.Cook for 10 mins.
Remove the lid,take out the plate and let it cool.
Now draw horizontal and vertical lines on it.
Take out the pcs and keep it on a serving plate.
Serve it fresh with green chutney.
Footnotes:
Don't overcook the dhokla.