Jaggery Rice (gur Waale Chawal)
#DiwaliRecipe #DiwaliRegionalRecipe
Jaggery Rice is a traditional punjabi sweet rice dish made with gur and ghee as main ingredients. Nuts are added to enhance the taste of rice.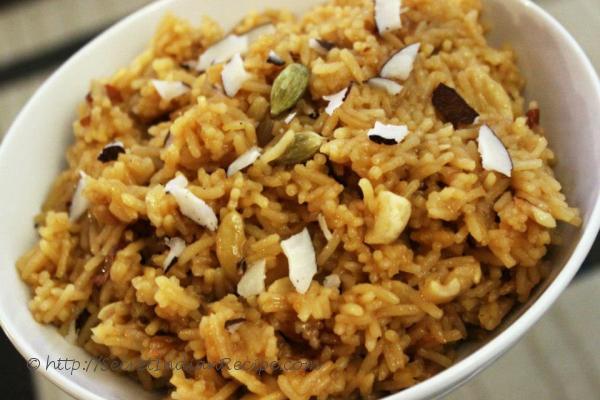 Ingredients:
Basmati Rice – 1 cup
Hot Water – 2 cups
Jaggery – 3/4 cup
Ghee/ Clarified Butter – 2 tsp
Cashews – 2 tbsp
Raisins – 2 tbsp
Green Cardamom - 3
Dry Coconut - chopped or sliced
Directions:
Add the jaggery to the hot water, mix well and allow it to dilute with the water.
In a pan, heat ghee on medium heat.
Once hot, add cardamom, cashews and the raisins. All the cashews to get a little color and the raisins plump up.
Pour it into the rice cooker.
Add washed, soaked and drained rice and coconut in the rice cooker.
Use a seive, strain the jaggery water to the rice cooker.
Mix well and cook as per the rice cooker instructions.
Once done, fluff with a fork and remove the rice from the cooker and serve hot.