Javvarisi Rava Payasam - Sago & Semolina Dessert
Unlike usual sabudana kheer, this kheer is a blend of sabudana and rava which gives a good texture and rich taste. It's a twist which I gave to the usual sabudana kheer. This kheer occupies our menu on almost every special occasion. Children love this dish and I am sure even elders will like this kheer.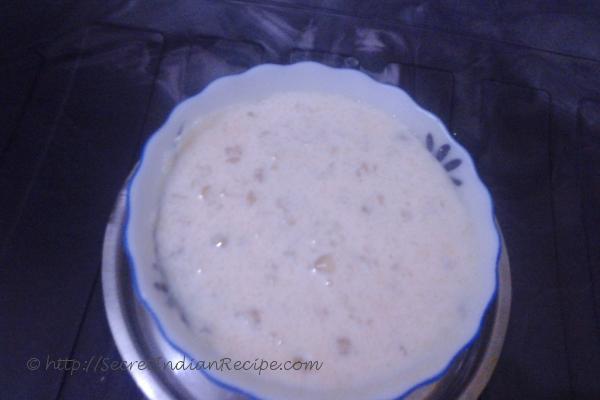 Ingredients:
Sabudana - 250 grams
Rava - 100 grams
Ghee - 10 tbsp.
Milk - 1 litre
Milkmaid - 5 tbsp.
Sugar - as per taste
Cardamom - 5 pods
Cashew nuts - 10
Water - 2 cups
Directions:
Soak sabudana for 2 hours in approximately 500 ml. of water.
Place a pan on low flame. Add ghee and put the rava into it, saute for 2 minutes and remove the rava from the pan and keep it aside, in the same pan add little ghee and roast cashew nuts till it turns to a light golden colour, remove it from flame and keep it aside.
After 2 hours, pour the sabudana along with water in a large vessel / pan to cook.
Add crushed cardamom to the sabudana and leave it to cook for approximately 10 minutes. Stir the mixture every now and then so the sabudana cooks evenly.
Once the sabudana is cooked about 75 percent, add rava and milk to the mixture and stir it well for a minute.
Now add sugar and stir the mixture. In about 5 minutes both sabudana and rava will cook completely.
Before removing the kheer from flame, add milkmaid and cashew nuts which were roasted in ghee.
Stir it well and leave the kheer for 2 minutes on low flame. When done, remove from heat
Serve it hot.