Jeera Jhinga (ridge Gourd With Cumin Tempering)
This recipe is my all time favourite green vegetable side dish. Ridge gourd has a very high content of water and this makes it a perfect vegetable during summer in India. The taste is a bit sweeter due to natural sweetness of the ridge gourd and onions. You can add the tempering of Whole red chili to make it little spicy.
It is advisable to taste the ridge gourd before cooking as some ridge gourd are bitter in taste. You can simply chop off the head and bite into the flesh if it is bitter then throw off the ridge gourd or otherwise if it is sweet, then go ahead and cook it.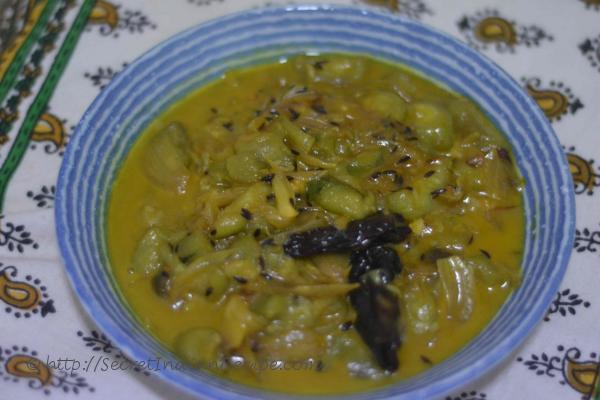 Ingredients:
Jhinga/ Tori (Ridge gourd) – 500 grams
Onion – 1 medium sized.
Jeera (Cumin seeds) – ½ teaspoon
Whole red chilli – 1
Oil – 2-3 tablespoons
Salt to taste
Directions:
Peel the Ridge gourd and chop into small pieces.
Peel the onion and slice finely.
In a pan heat 2 tablespoons of oil and sauté the onions till translucent.
Add the chopped ridge gourd and salt and mix. Cover with a lid and allow it to cook on low flame till it is tender. Please note that ridge gourd will release some water in the process of cooking so do not add any water.
When it is cooked well, increase the flame and evaporate the excess water if any.
In another Pan heat 1 tablespoons of oil. Add the broken red chilli and cumin seeds. Switch off the flame as soon as they start releasing aroma.
Pour the tempering on the cooked ridge gourd and serve hot with Rice and dal or Chappati.