Jeera Rose Cookie (wheat And Oats)
A Jeera rose with hot tea on a cold cloudy winter afternoon is … nirvana ! These cookies aren't sweet. Munch on them during those casual long driving trips. Keep them in your car for that quick kiddie snack. The recipe doesn't need any fancy cookie cutters. You can reduce Jeera as per your taste. Keep an eye on them during baking. These taste different from the ones made with maida/all-purpose-flour.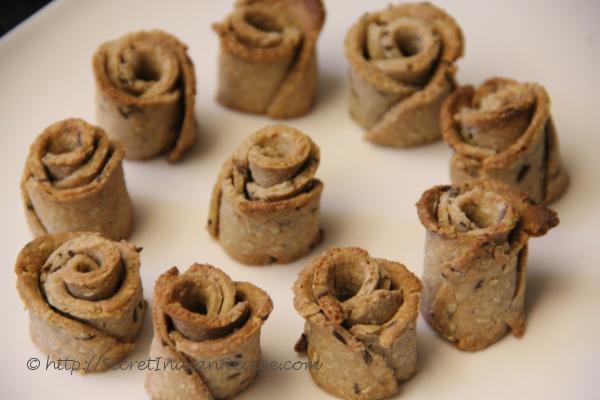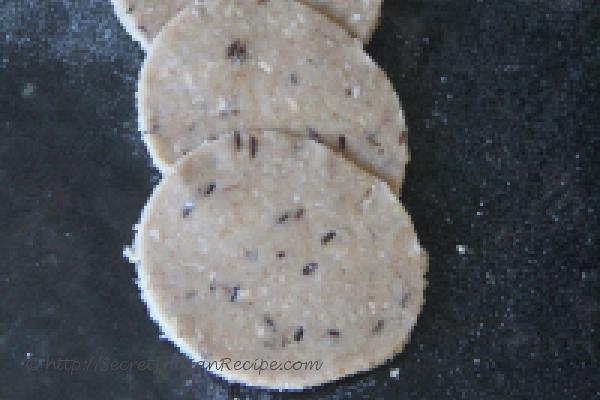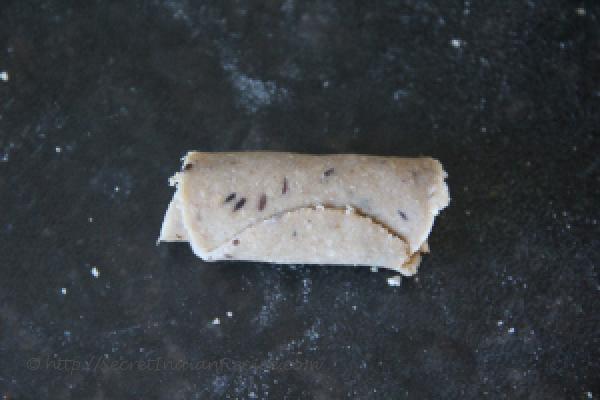 Ingredients:
Old fashioned oats powder – half cup ( roasted and grinded in mixer)
Wheat flour – half cup and for dusting
Cold butter – one and half tbsp
Milk – to make medium stiff dough
Salt – to taste
Roasted jeera / cumin seeds – one tsp
Directions:
In a bowl, add oats powder, wheat flour, salt, jeera and butter. Mix well. It'll look like bread crumbs.
Now add little by little milk ( as required) and make a medium stiff dough. Cover it and leave it for 10mins.
After 10mins, pre heat the oven to 350 degrees.
Roll the dough in to half-inch thick pieces and then use a round cookie cutter or lid to cut out rounds.
Lay 3 of these rounds such that they overlap (see the picture below). Roll the pieces as shown below Cut the roll in the center such that you get two pieces which are shaped like a rose as shown below
Place all of them on a baking sheet (grease the sheet with little butter).( I used silicon mat). Bake until they are golden brown. It took me 15 to 20 mins in my oven. Ready to serve.