Jelly Halwa
Jelly Halwa is also known as Bombay Halwa. In different regions its made using maida or suji but here I have made it with cornflour.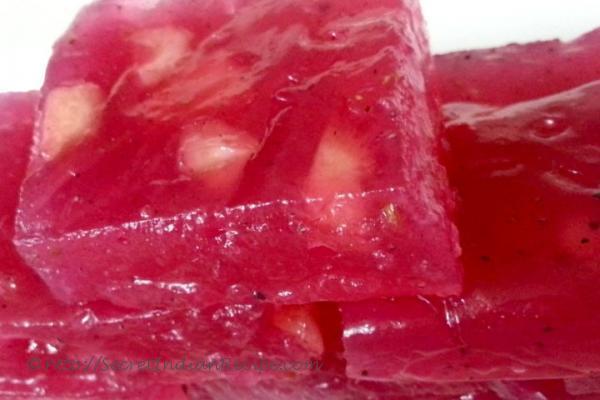 Ingredients:
Cornflour -1 cup
Water needed to dissolve corn flour-3 cup
Sugar -3 cup
Water needed for sugar syrup -2 cup
Cashewnuts -1/2 cup
Rose Essence -1 tsp
Cardamom powder -1 tsp
Pure ghee -10-14tsp
Pink Colour - just few drops
lemon juice - 2 tsp
Directions:
In a pan take the sugar and add water in it.
Switch on the gas & let the sugar get dissolve on a medium flame.
In a another bowl dissolve cornflour with the water. There should not be any lumps.
Add few drops of pink colour.
Check the sugar syrup, it should be boiling & frothy. Now add lemon juice to prevent crystallization of sugar.
No need for any string consistency.
Add the cornflour mixture slowly.
Keep stirring well but on a medium flame.
After a while you will see that the mixture is getting slightly thick.
Add chopped cashewnuts & cardamon powder in it.
Stir it continuously & now add 5-6 tablespoons of ghee in it.
At this stage the halwa looks slightly transparent.
Add the remaining ghee & mix well till the ghee gets incorporated.
If you want to avoid putting excess ghee, just add the quantity enough to give a shine to halwa.
Keep stirring till the halwa leaves the sides of the pan.
Then pour the halwa in a greased pan.
Let it get cool at room temperature for 2 hrs.
Cut it in to desired shapes.
No need to keep it in fridge.
Footnotes:
Continuously stirring the batter is a must & on a medium flame.
Add little ghee once the batter starts to get thick.
If more ghee is added it will ooze out, so just add as required till you get the shiny transparent appearance.
As its slight tricky in making I will suggest better try half a recipe first.