Jhatpat Microwave Mango Barfi (quick Mango Fudge)
This is a very easy sweet dish cooked in 10 minutes.... so if you are expecting any sudden guest at home... you can prepare it in no time. It is sugarless... so any one can enjoy the Barfi.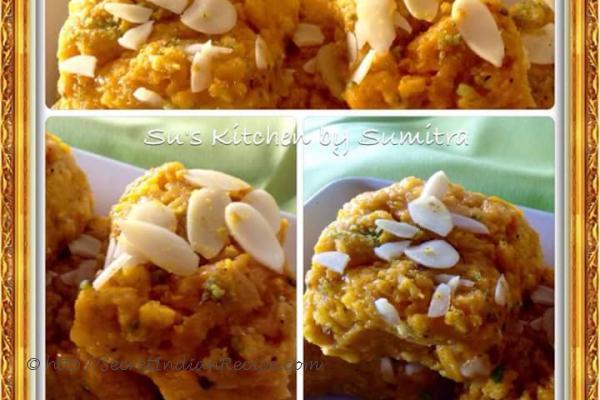 Ingredients:
1 cup Mango pulp
1 cup Milk Powder
1 cup Home made Paneer
1/4 cup cream
2 tbsp curd
1/2 tsp Cardamom powder
1 tbsp Almonds flakes
1 tsp Milk Masala powder
1 tbsp Ghee
Directions:
Take a microwave bowl. Add in mango pulp, milk powder, cream, curd and paneer.
Set the microwave for 10 minutes. Put the bowl in the microwave. After every 2 minutes take out the bowl and stir.
After 5 minutes add cardomom powder, 1/2 tbsp almond flakes, ghee and 1/2 tsp milk masala powder and stir.
After 10 minutes..... The mango pulp will reduce and will be thick in consistently.
Take a plate, apply ghee on the plate. Spread in the mixture and give it a square shape. Sprinkle remaining Almond flakes and Milk masala powder on top. Keep it in the fridge for 15 to 20 minutes.., cut in pieces and serve...
Footnotes:
Keep an eye while cooking in the microwave as it tends to cook dry up and becomes hard very fast.