Jhilmil Sabzi (vegetable Medley)
Though this curry is known as jhilmil sabzi it has no vegetables in it. I had it for the first time at a Punjabi restaurant and loved it because it was a potpourri of ingredients indeed. It is a great protein rich diet for vegetarians. The curry usually has green peas, red kidney beans, chickpeas, corn and black eyed peas cooked in a tomato gravy and it also contains mashed paneer. I did not have all the ingredients and also I make this curry towards the end of the week to use up leftover beans I use up for salads. I have therefore used cooked beans leftovers. But you can use these pulses fresh by soaking and cooking them individually.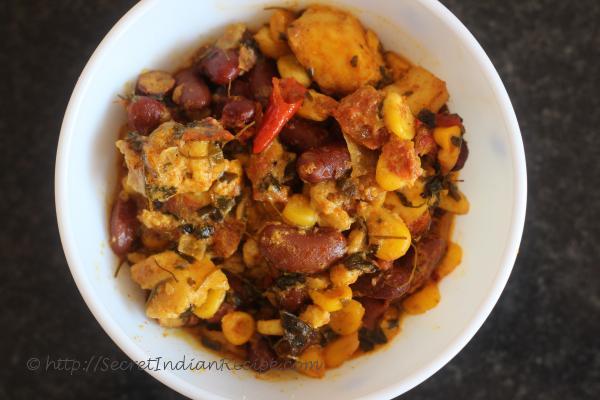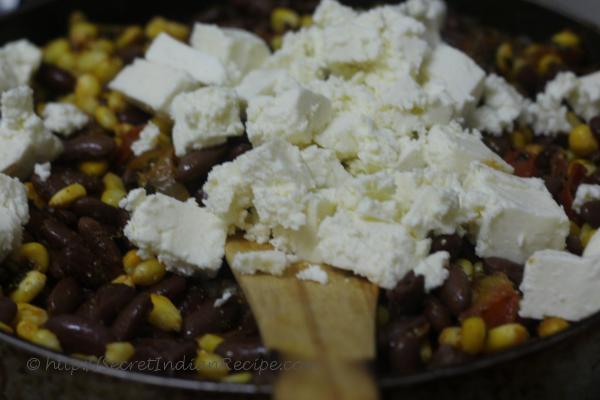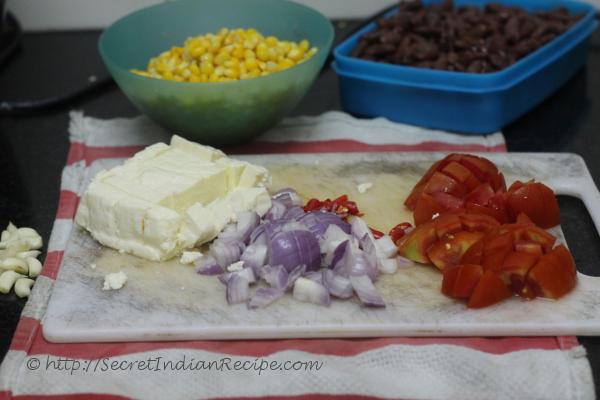 Ingredients:
Cooked Red kidney beans- 2 cups
Cooked Corn- 1 cup
Paneer- 200 g
Tomatoes- 4
Onions-2
Garlic- 5 cloves
Green chilies- 3
Dried fenugreek leaves- 2 tsp
Turmeric powder- 1/2 tsp
Chili powder- 1 tsp
Coriander powder- 1 tbsp
Garam masala- 1 tsp
Salt- a pinch
Yogurt- 1 cup
Oil- 2 tbsp
Fresh cream- 200 ml (optional)
Directions:
Heat oil in a pan and add minced garlic first. Saute for a minute and add sliced onions and green chilies.
When the onions start to brown, add the spice powders and saute over low flame till their raw smell goes away.
Add tomatoes and salt and let the tomatoes wilt. After the tomatoes make a thick sauce add yogurt and kasoori methi (dried fenugreek leaves)
Add the corn and red kidney beans and cook over medium flame for 10 minutes. Since the corn and beans are cooked already it just needs 10 minutes to infuse into the gravy.
Add the mashed paneer now and cook the paneer with the gravy for 10 minutes.
Adding fresh cream is optional, I don't do this mostly but this time I had some leftover cream so I used it.
After adding cream bring the curry to boil and switch of the flame. Garnish with chopped coriander leaves.
Serve with rice or rotis.