Jhinga Biryani (prawn Biryani)
Jhinga Biryani as the name suggests is using Prawns instead of meat or chicken for the Biryani. This is one of the very popular rice recipes in India and loved by people globally. Shrimp may also be used instead of Prawns.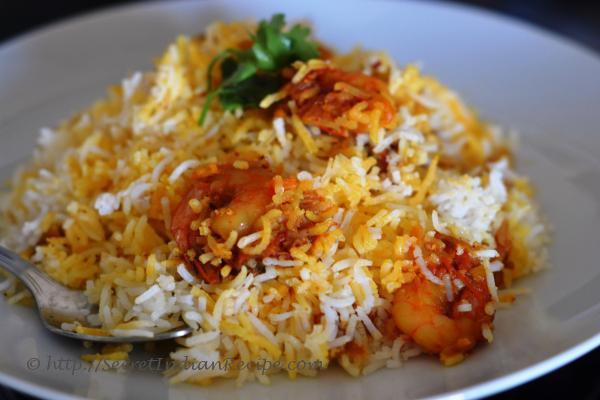 Ingredients:
(For the Prawn)
Jhinga (Prawns 200 grams (7 ounce)
Ginger – garlic paste 2 tablespoon
Onion Paste 1 onion (15-20 grams)
Onion 1 onion (cut in slices and deep fried)
Red chilli powder 1 tablespoon
Salt 1 tablespoon
Tomato puree 2 tablespoon
Curd 2 tablespoon
Mint leaves 2-3 strig
Jaiphal (nutmeg powder) 1 tablespoon
Saffron ½ tablespoon (dry roasted and then immersed in 2 tablespoon milk)
Refined oil 4 tablespoon
(For the rice)
Basmati / Biryani Rice 250 grams(9 ounce washed and soaked for 1 hour)
Refined oil 2 tablespoon
Ghee 2 tablespoon
Salt 1 tablespoon
Whole Garam masala 1 inch cinnamon, 2 stigs mace, 2 cardamom
Directions:
Take the Prawns in a bowl. Add half of onion paste, ginger- garlic paste, red chilli powder and marinate for 10 mintues.,
In a pan or karahi put the refined oil and once the oil is heated up, add remaining onion paste , ginger garlic paste and red chillies and sauté for 2-3 mintues. Add the marinated prawns , tomato puree, curd, salt and sugar and cover it with lid. Cook on low flame for 5 mintues. Stir occasionally.
Put a pressure cooker on the other gas stove and add refined oil and ghee together. Once the oil is heated up, add the bay leaf and the whole garam masala.
Once the flavour starts coming add the rice, salt and 375 ml of water and pressure cook for one whistle.
Take a flat bottom bowl. Place some fried onions followed by a rice base. Then pour a layer of prawn curry, some saffron and sprinkle some nutmeg powder. Follow another layer. Finally pour the remaining rice , fried onions, pudina / mint leaves and serve hot.
Other Indian Recipes that you may Like !