Kaanole Triangular Whole Wheat And Jaggery Steamed Cake)
#Steamed Recipe Contest
Kaanole are steamed sweet delicacy from Maharashtrian Cuisine. Made from whole wheat flour and Jaggery , this sweet dish is prepared especially on the occasion of Naag Panchami in my family since ages. A dough is made with whole wheat flour , Jaggery syrup and oil and rolled out and made into small triangle shape kaanolas and then steamed in the cooker. It is served pipping hot with the Suji kheer. This is one of my treasured heirloom recipes.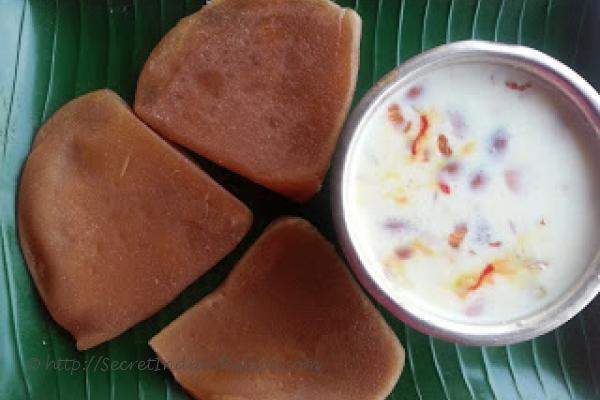 Ingredients:
1 1/2 cup Whole Wheat flour
1/4 cup Grated Jaggery
1 tablespoon Suji / Semolina
3 tablespoon Oil
Pinch of Salt
Directions:
In a bowl take grated Jaggery and add some warm water to it to dissolve the Jaggery . Stir well.
Take wheat flour in a another bowl , add suji and a pinch of salt and oil to the flour and using this Jaggery water knead into a soft dough. Add more water if needed.
Cover the dough and keep aside for 10-15 minutes.
Pinch a small portion of the dough and make a ball shape. Roll out it using a rolling pin to round shape by applying few drops of oil on the rolling board.
Do not use flour for rolling. Now apply oil and fold it to half , again apply some oil and then fold one more time to form a triangle shape.
Make all the Kaanole in similar way and keep them in a greased container and cook in a pressure cooker for 3 whistles.
Serve piping hot with Suji Kheer. Green Chili Pickle also goes well with the sweet Kaanole as a side dish.
Footnotes:
Filter the jaggery syrup if there are impurities in .
The kaanole can be steamed in a steamer for 15-20 minutes also instead of cooker.