Kacche Kele Ki Chap (spicy Plantain)
Spicy plantain makes a delicious side dish. To make this recipe , we don't need any special ingredients but the method of frying them is different. They do not have any flavor as regular bananas, but taste amazing when cooked with salt and spices. I prepare this raw banana chap to go as a side dish with dal and chapattis. You can also serve this with dal chawal.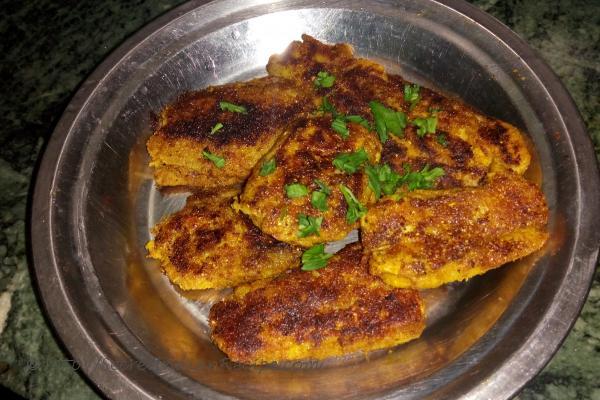 Ingredients:
Raw Banana 3-4
Oil for frying
Salt to taste
Dried mango powder (amchur) - 1/2 teaspoon
Turmeric Powder - 1/2 teaspoon
Roasted Coriander powder - 2 tablespoon
Red chilli powder - 1/2 teaspoon
Chat masala
Directions:
Take pressure cooker, put the bananas and enough water and pressure cook for 1 whistle.
Allow the steam to escape before opening the lid.
Cool and peel the skin of bananas.
In a plate, mix salt, mango powder, turmeric, coriender powder.
Cut the banana into slice, without dividing into two. Stuff the above masala mixture between the slices and press gently with your hands.
Now coat the banana again in the masala mixture and keep aside.
Heat oil in a thick bottomed tawa.
Place bananas on the tawa.
Now place a lid on the bananas, on the top of the lid place a heavy weight. (you can use a heavy lid also, but as my lid is not heavy so, i kept mortar on it).
Cook the bananas over low heat for about 2-4 mintues. Then flip each banana carefully and again cook on other side in the same way.
Sprinkle the chat masala. Serve hot.