Kacche Kele Palak Bhaji (raw Banana Spinach)
This recipe is simple but tasty and it contains very rich minerals too.Raw banans as we all know contains high amount of iron whereas spinach is a heart healthy food containing vitamin E,protein etc.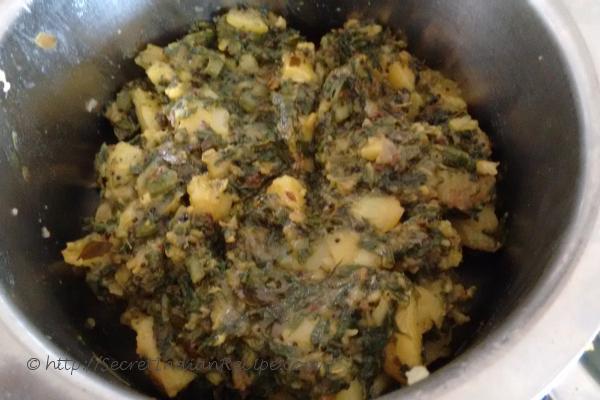 Ingredients:
Mustard seeds- 1 tsp
Cumin seeds- 1 tsp
Green Chillies- 4 pcs
Asafoetida- 1/2 tsp
Curry leaves- 8
Raw Bananas- 3
Spinach- 1/2 kg.
Salt- 1 tsp
Turmeric powder- 1 tsp
Onion- 1 medium size
Coriander Powder- 1 tsp
Directions:
Chop spinach and wash thoroughly with water.Cut green chillies into small pcs.
Peel the bananas and cut it into 1 inch pcs.
Now boil the bananas in a pan.Don't overcook it.
Now in a pan take 1 tbsp oil.Heat the oil.
Add mustard seeds to it.When it splutters add cumin seeds.
Add asafoetida, green chillies, curry leaves.
Now add chopped onions and cook till golden brown.
Now add spinach and let it cook.
Add bananas to it. Mix well. Now add salt, turmeric powder,coriander powder to it.
Mix well and cook for 5 minutes.Take it out in a serving bowl and serve it with chapatis.
Footnotes:
Don't overcook the bananas.