Kacche Makai Ki Roti (corn Roti)
Kacche makai ki roti is a seasonal recipe rather than an evergreen Makke Di Roti. Makke di roti is basically made from dried Makai flour, which can be preserved. However Kacche makai ki roti is made from raw makai dana ( Green Corn) which is available in Punjab and uttarpradesh in abundance as it is cultivated there. It is available in packaged form in all cities and countries across the world. Kacche makai is also known as ' bhutta' in some parts of India.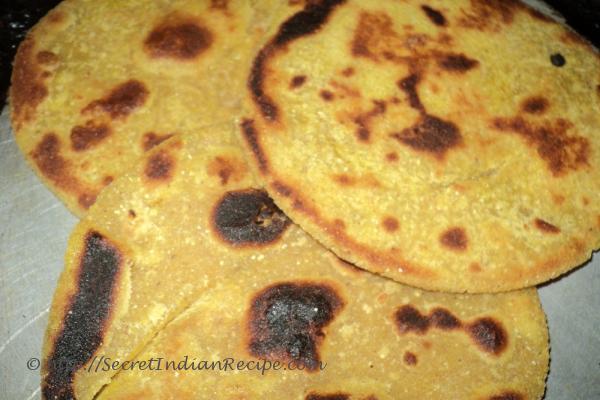 Ingredients:
Kacche Makai (Bhutta) 2 pieces
Garlic paste 1 tablespoon
Green Chilli 1 piece
Salt 1/2tablespoon
Atta (wheat flour) 1 and 1/2 cup
Kallonji (nigella seeds) ½ tablespoon
Ghee 2 tablespoon
Water ½ cup
Directions:
Peel the Bhutta and take out the corn seeds. Puree the corn seeds along with garlic, green chilli and salt.
Afterwards pour the corn puree in a bowl and mix wheat flour and kallonji seeds and make dough.
Finally make small chappaties by either pressing it by hand or by using 'chawka and belan'(rolling spin).
Heat a ' Tawa' or a pan and put the makke ki roti to cook on low flame for 4-5 mintues. Apply ghee on both sides and serve hot with Palak paneer or Sarson ka saag.