Kacchu Pata Kachhe Masale Ke Saang (colcassia Leaves Cooked With Mustard)
In Northern India, Kacchu Patta (Colcassia leaves) is used to cook ' Rikwatch', a typical north Indian snack. Rikwatch is one of the side dishes, which is cooked during most of religious ceremonies in northern India and hence it is so important. The usage of Colcassia leaves in currys or other recipes is quite limited. Very few people are aware about its high calcium and iron content. One of the reason of its less usage in Indian Kitchen can be due to the fact that many colcassia species cause extreme irritation in throat when consumed. It requires an experience to find out Meetha patta (sweet colcassia leaves). Generally meetha patta is smaller in size and to avoid irritation, you can add any souring agent like curd, or dry mango powder or simple lemon juice while cooking it. Frying it properly over low heat, also help to avoid irritation when consumed.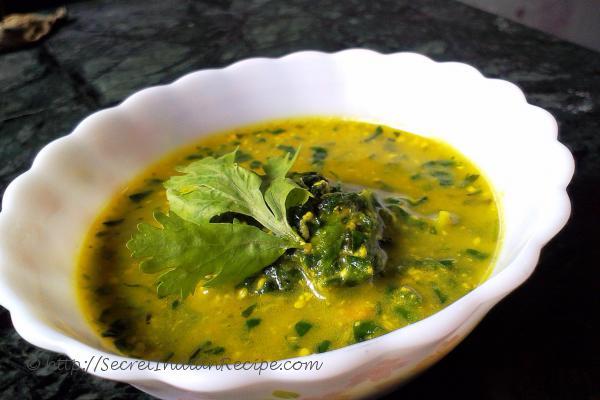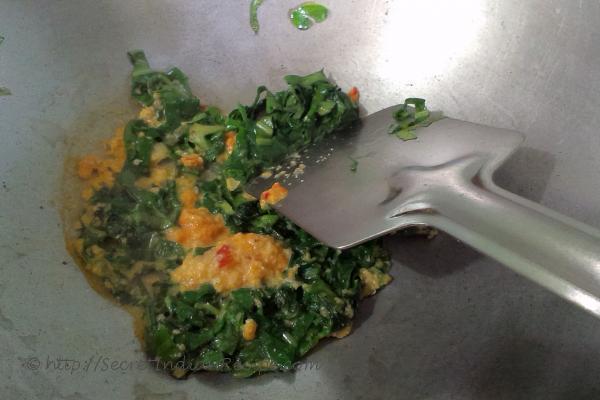 Ingredients:
Kacchu Ke patte (Colcassia leaves) – 10-12
Sarson (Mustard seeds) – ½ tablespoon
Khus Khus (Poppy seeds) – ¼ tablespoon
Whole red chili – 1
Garlic cloves – 4-5
Curd – 4-5 tablespoon
Salt – To taste
Mustard oil – 3 tablespoon
Directions:
Wash colcassia leaves thoroughly with water and chop them finely.
Grind together mustard seeds, poppy seeds, garlic and red chili with some water to make kaccha masala paste.
Heat oil in a pan and first put the colcassia leaves. Fry them over low heat for a minute.
Now add the kachha masala paste and fry till it leaves oil from sides. This will take 1-2 mintue.
Now add some water and salt and let it simmer for about 5 mintues. Switch off the gas and let it cool.
Finally beat the curd and mix it with the colcassia curry. Again switch on the gas and cook upto a boil.
Serve hot with chappati and potato fry.