Kachaloo Chaat (taro Root In Spicy Mix)
Kachaloo is a variety of Arbi that we Malayalees call 'Chembu'. This tuber is consumed boiled with green chili chutney back home for breakfast. But recently I was introduced to this tuber in the form of a chaat by a friend from Delhi. Though her version had sweet potatoes, in my version I did not use sweet potatoes. It is quite starchy a snack but if you are used to eating chembu in boiled form, this spiced variety would be a twist of flavor.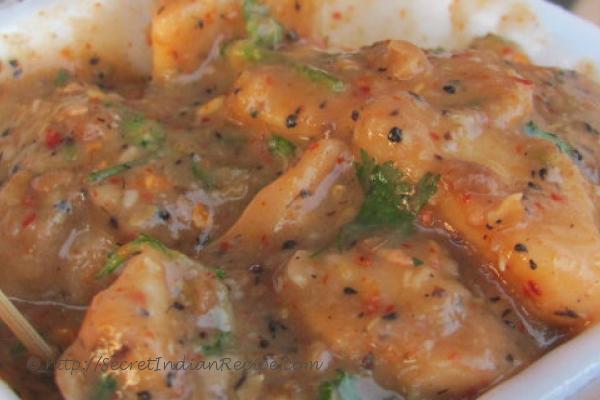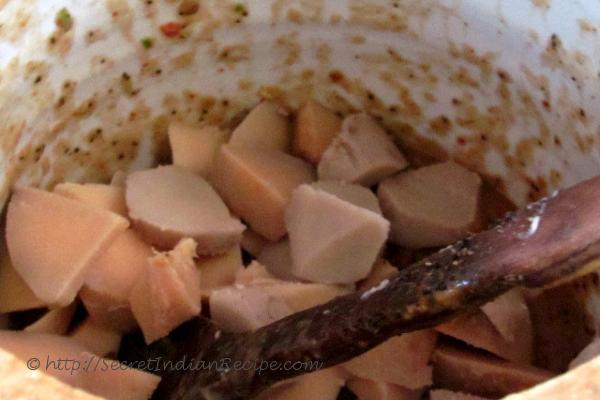 Ingredients:
Kachaloo- 150 g
Tamarind and dates chutney- 3 tbsp
Lemon juice- 2 tsp
Chili powder- 1/2 tsp
Garam masala- 1/2 tsp
Cumin powder- a pinch
Chopped coriander leaves- a fistful
Salt- 1/4 tsp
Black salt- 1 pinch
Chaat masala- a pinch
Water- 1 cup
Directions:
Pressure cook the kachaloo up to 2 whistles with 1 cup water. Peel the skin of kachaloo and dice into small pieces when the kachaloo has cooled a bit.
In a bowl add all the remaining ingredients except the tamarind chutney and coriander leaves.
Toss the cubed kachaloo in these spices. Add the tamarind chutney and give the kachaloo a nice toss.
Garnish with coriander leaves and serve immediately.
Footnotes:
To prepare the dates and tamarind chutney, soak a lemon sized tamarind in 1/4 cup warm water along with 6 pitted dates. Grind them to a fine paste with a pinch of salt and cumin seeds and the chutney is ready.
I buy the readymade chutney at times.