Kachche Haldi Ka Achar (raw Turmeric Pickle)
My guide and friend who happens to be a Gujarati introduced me to this pickle during a lunch at her place. I was fascinated with the colour at first and the information that raw turmeric could be pickled. My friend told me since turmeric had a healing property having it intrinsically cleansed one's body. The taste was quite strong for me, but then I went ahead and made myself a small bottle to give it a try. I believe you get accustomed to a flavor if you have it over a long period. I am getting accustomed to raw turmeric and this is the easiest pickle ever.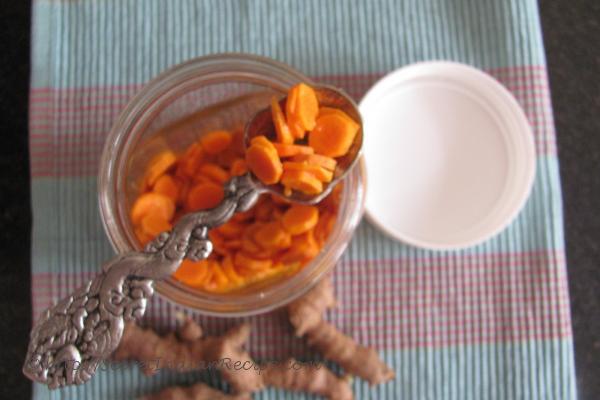 Ingredients:
Raw turmeric- 50 g
Salt- 2 tsp
Lemon- 3
Directions:
Peel the turmeric and chop it finely.
Squeeze the lemon and mix the turmeric with salt and lemon juice.
Transfer the pickle to a sterile jar and refrigerate it. Shake it once for the next one week and it is ready to eat.
Use a dry spoon each time your serve and this pickle can last up to 3 months in the refrigerator.