Kache Aam Ka Meetha Achaar
The moment, you ask anybody about Aam ka Achaar, the immediate response will be the spicy and salty Mango Pickle. Very Few, like me will tell you about sweet and sour Achaars. This is a versatile recipe, which can be substituted for side dish, can be even served with snacks like samosa.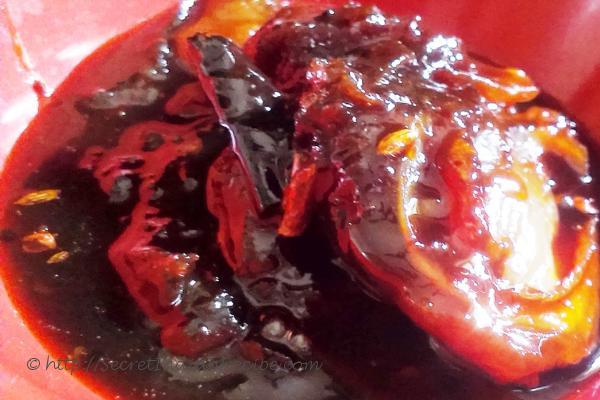 Ingredients:
Kacche Aam ( Raw Mango) - 500 grams
Gur (Jaggery) / 300 Grams
Kallonji (Onion seeds) - 1/2 teaspoon
Saunf ( Fennel seeds) - 1/2 tablespoon
Red chilies / 4
Salt 1/2 tablespoon
Mustard oil / 1 tablespoon
Directions:
Peel the mangoes, take out the seeds and then chop in small pieces.
Heat oil in a pan and add kalonji and saunf. Wait for them to crackle and then break the red chilies into halves and put into the hot oil.
Let the chili turn a little black, and then add the raw mango pieces.
Soon after adding the mango, add the jaggery pieces, salt and 1 cup of water.
Adjust the flame to medium and let it bring to a boil.
Now turn the flame low and let it simmer for about 15 -20 mintues. Let the mango cook in the jaggery solution and turn soft.
Finally check the sweetness and if required, add more jaggery or sugar according to your taste
Serve with your meal or with snacks
Footnotes:
You can keep this Achaar for six months in the refrigerator