Kache Kele Ki Sabzi (raw Banana Patties Cooked In Mild Spicy Tomato Gravy)
This is a super recipe passed down to me by my mother-in-law. This kache kele ki sabzi will give your usual day meal a whole new dimension. Try it; I am sure you will love it!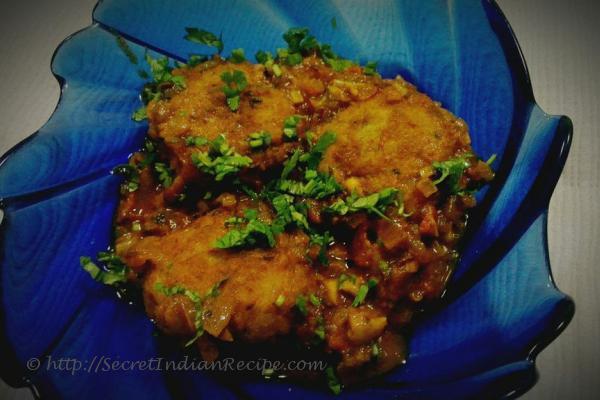 Ingredients:
2 Kache Kele (Raw green Bananas)
2 onions finely chopped
1 tomato finely chopped
1/2 Cup tomato puree
1 1/2 Tsp Garlic Paste
3 Tsp Red Chili Powder
2 Tsp Turmeric powder
1 Tsp Green Chili finely chopped
Salt to taste
1/2 tsp Jeera
2 Tbsp Oil
Oil for deep frying
1 Boiled Potato
1 Tsp Ginger finely chopped
Coriander for garnish
1 tsp Garam masala
1 tbsp any meat masala or pav bhaji masala (I have used Shaan's chicken masala)
Directions:
Peel and clean the raw bananas, boil them for about 20-25 minutes or till they are nice and soft. You may also cook them in a pressure cooker for up to 6 whistles.
When the raw bananas are cooked, take the bananas in a large bowl, add boiled potato, 1Tsp haldi, 1Tsp Ginger finely chopped, add the finely chopped green chili, 1 tsp red chili powder, 1/2 tsp garlic paste and salt to taste
Mix all ingredients well, if the mixture is too sticky add a little besan (chickpea flour) to even out the consistency. You may also add potato. Check for salt.
Make 8 small rounds like a tikki (patties). Deep fry these tikkis in oil till golden brown and set aside
Keep about 2 tbsp oil in the kadhai and discard or remove the remaining oil. Add jeera, onions, cook till slightly brown. Add the remaining garlic paste, haldi, red chili powder. Cook for a minute and add the chopped tomato
When the mixture is cooked well and starts leaving oil add the tomato puree and the meat or pav bhaji masala. Let the gravy thicken a little and add the garam masala and salt.
Just before serving, reheat the gravy, add in the tikkis garnish with coriander and serve immediately.
Footnotes:
Remember, if you leave the tikkis in the gravy for long; they will soak up all the sauce. This also tastes good, so depends on your preference.