Kachori ( Crispy Deep Fried Snack With Savory Stuffing )
I am sharing this recipe for all my Bengali friends not residing in Kolkata. ' Khasta Kachori' is one snack that every Bengali likes and misses when they are out of Kolkata. Infact not only Bengal, kachori it is a popular snack among Indians. In Bengal there is an additional liking for Kachori, may be because ' Kachori' best symbolizes the taste of Bengal…..salty, spicy and a little sweet. Bengal and Bengalis are known for ' Telebhaja' and ' adda' (Evening time is the time for socializing and snack). Kachori with tea in small earthen cups is the most favoured snack. The outer crust is crispy and salty whereas the inner stuffing is spicy and a little sweet. A perfect balance of taste and therefore, you actually do not need any Chutney or dips. The best part is you can carry it along with you if you are travelling and enjoy your ' Kachori' up to two days. Here goes the recipe of this awesome snack.
Another variation of this Kachori is 'Khasta Kachori' which is made with Urad Dal stuffing, I will soon be making Khasta Kachoris and will share the recipe soon.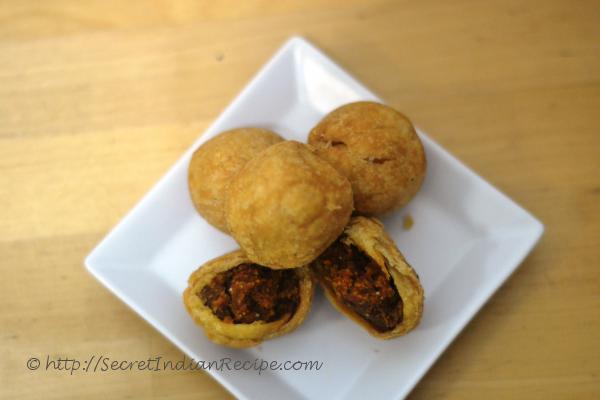 Ingredients:
( For kachori)
Maida (Refined Flour) - 1 cup
Melted Ghee - 4 Tbsp for dough
Salt - 1/4 tablespoon
Water to make dough - a little less than 1/2 cup
( For stuffing)
Sattu ( Roasted gramflour powder) - 1/2 cup
Saunf ( fennel seeds) - 1 tablespoon
Hing (Asafoetids) - a pinch
Garam masala - 1 pinch
Roasted and crushed coriander seeds - 1 tablespoon
Salt to taste
Sugar - 1 Tsp
Oil - 4 tbsp for filling
Oil for frying
Directions:
Prepare the kachori dough by combining maida, salt, 4 tablespoon ghee and water.
The dough should be a little stiff and not be too soft like for rotis or you will not get crisy kachoris.
For the stuffing, Heat oil in a pan. Add the sattu (roasted chana dal powder) and roast the sattu on low flame for about a mintue.
Add crushed coriander, hing, saunf, garam masala, salt and sugar and mix well.Continue stirring for another 1 mintue. Switch of the gas as it starts releasing the aroma.
Once the stuffing is prepared, heat oil for frying the kachoris.
In the meanwhile take small portions from the dough and fill in the stuffing. These kachoris are not rolled out over rolling spin unlike other stuffed kachoris but are just slighly flattened with fingers.
Put the stuffed kachoris in oil and fry over low heat till the surface turns light brown. Do not fry on high flame as the kachoris are thicker and frying on high flame will leave them uncooked from inside.
Serve hot with Tomato chutney or tea.
Footnotes:
You may add raisins for extra sweetness