Kadachakka Mulakittathu (breadfruit Sauted With Crushed Chili)
Crushed chili preparations elevate your regular sabjis (stir fried veggies) to a whole new level. I love accumulating spices and this love has transcended beyond my lot of traditional spices. These chili flakes are used in fish curries and stir fries mostly. Nope they are not your dominos crushed chili flakes they are more fierier than any foreign brand of chili flakes. I use the brand 'melam'. Now since breadfruit is a bit sweet this chili flakes cuts through the sweetness. I would advise this recipe for raw papaya, raw banana and yam preparations.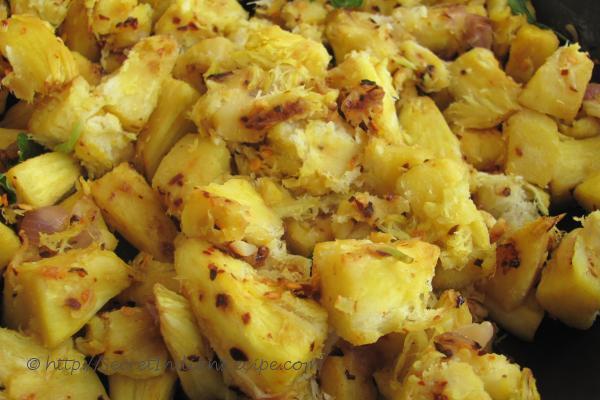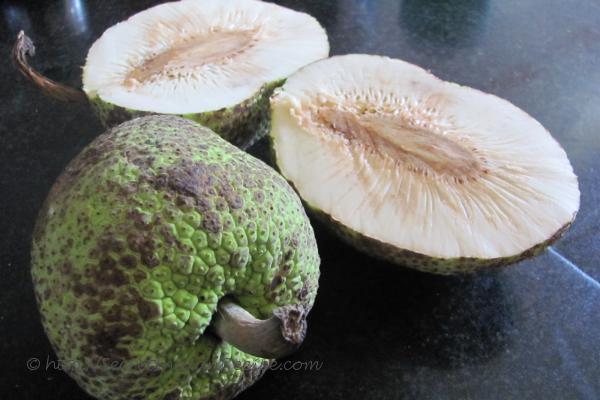 Ingredients:
Breadfruit- 3
Shallots- 10 pods
Garlic- 8 pods
Turmeric powder- 1/2 tsp
Crushed chili flakes- 1 tsp
Salt- to taste
Coconut oil- 2 tbsp
Curry leaves- 2 sprigs
Directions:
Cut the breadfruit into medium size pieces.
Now this step is optional and I do it because I am habituated to do so. Steam the breadfruit or microwave it for 5 minutes.
Crush the garlic and shallots using a mortar and pestle.
Heat oil in a pan and add the curry leaves.
Add the minced shallots and garlic and saute till the brown.
Now add the turmeric powder, crushed chili flakes and salt. Stir for 4-6 minutes.
Add the breadfruit now. It is already steam cooked so it would not need much time to get cooked.
Keep stirring gently because breadfruit is fragile and can mash easily. This is not an issue if you like it mashed.
After 5 minutes the masala would have infused into the breadfruit so take the pan off the flame.
Serve with rice and dal.
Footnotes:
To clean the breadfruit, apply some oil on hands and remove the scales by chopping through the breadfruit.
Application of oil is because breadfruit is sticky.