Kadala Mavu Bonda ( Fried Besan Flour Balls)
Bonda is a recipe which is very similar to the punagulu (a traditional recipe or Andhra Pradesh). It has different variants, and I am going to share with you one such method of preparing Bonda. It is a tea-time snack which is very common in the local restaurants or tattu kadas in Kerala. Try it out and enjoy with a hot cup of black tea and tomato ketchup or coconut chutney.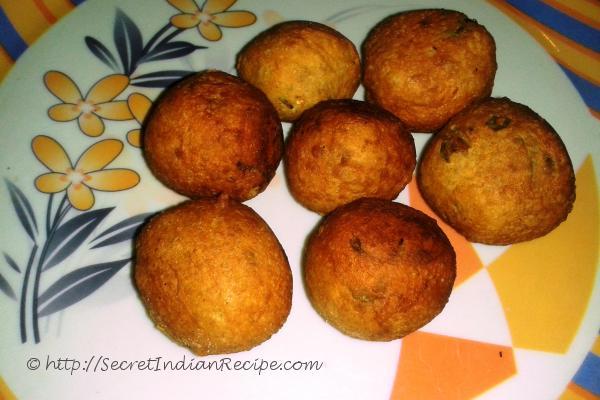 Ingredients:
Besan flour - 2 cups
Green chilli, chopped - 4 nos.
Ginger, chopped -1/2 teaspoon.
Asafoetida - a pinch.
Chilli powder-1 teaspoon.
Turmeric powder - a pinch
Curry leaves-2 sprigs.
Water - 3/4 cup.
Oil - to deep fry.
Salt - as you need.
Baking soda - a pinch.
Onion, chopped - 1 big.
Rice flour - 1 tablespoon.
Directions:
Take a bowl and add besan flour, chopped green chilli, ginger, asafoetida, chilli powder, turmeric powder, curry leaves, salt, chopped onion, and baking soda.
Mix it together by adding water little by little to make a dough.
The dough should be thick and sticky.
Keep it aside for about 10 minutes.
Switch on the stove and place a frying pan on the stove.
Add oil into the pan and heat it.
When the oil is hot, make small balls with the dough and fry it in the oil.
When the balls reaches a light or golden-brown color, take it out from oil and drain in a Kitchen tissue.
Serve hot with coconut chutney or tomato ketchup.