Kadala Mezhukkupuratti (bengal Gram Stir Fry)
Kadala mezhukkupuratti or Bengal gram stir fry is a traditional Indian recipe. It is very healthy and tasty too.My mother- in- law used to prepare this dish whenever she wanted to cook Bengal gram. Chana gram is used in North India but in South India Bengal gram is used more commonly.( I love this dish very much, and not let me share with you my Mother- in-law's recipe, and I'm sure that you too will love it. It is a good side dish and goes best with chappatis, appam or even rice.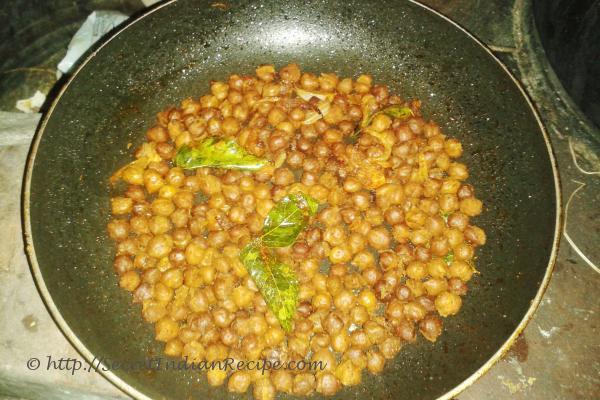 Ingredients:
Kadala or Bengal gram -100 grams
Chopped small onion-3 nos.
Oil-3 tablespoon
Mustard seeds-1 teaspoon
Curry leaves-1
Chilli powder-1 teaspoon
Turmeric powder-3 pinch
Salt –as you need
Directions:
Soak kadala or Bengal gram for at least 12 hours.
Switch on the stove and place a pressure cooker on the stove.
Cook soaked kadala or Bengal gram with salt and turmeric powder and water in the pressure cooker for about 15 minutes.
The water level should immerse all the Bengal grams completely otherwise it will not be cooked properly.
Place a pan on the stove.
Add oil into the pan.
When the oil is hot, add mustard seeds and curry leaves.
When the mustard gets splutter, add chopped small onion and sort it until it turns a golden brown color.
To it add chilli powder and saute till the raw flavor of the chilli powder is gone.
Then add already cooked kadala or Bengal gram into it and stir well for about 5 minutes.
Please note that you need not add any water into it.
When it is done, remove it from flame.
Kadala mezhukkupuratti is ready to serve.
Footnotes:
Bengal gram is very healthy. So if you are health conscious you can take it daily in your diet.