Kaddu Ki Sabji (pumpkin Curry)
Kaddu ki Sabji / Pumpkin curry is quite simple, quick and tasty recipe. This curry recipe can be paired along with roti or plain rice. It might not be a favourite vegetable in every household but it is definitely high in nutrition, offering many health benefits. So this is a great recipe, if one is following a weight loss management programme. As it is said that, "Healthy living starts with healthy eating", so to maintain an ideal body weight, a healthy diet is required. Keeping the above in mind, lets try this pumpkin curry which is extremely low in calories i.e. with a 100gm serving containing just 26 calories.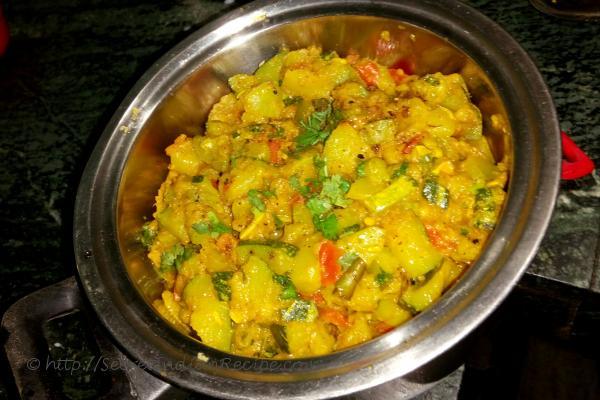 Ingredients:
1 Pumpkin medium sized (kaddu) (chopped)
Tomato – 2 (chopped)
Red chilli powder - 1/4 teaspoon
Coriander powder - 1 teaspoon
Turmeric - 1/2 teaspoon
Green chillies – 2 pieces (chopped)
Garam masala - 1/4 teaspoon
Oil – 4 tablespoon
Salt to taste
Onion seeds/nigella (kalonji) - 1/4 teaspoon
Fenugreek seeds (methi dana) - 1/4 teaspoon
Sauf seeds - 1/4 teaspoon
Minced garlic - 5-6 cloves
Finely chopped coriander
Directions:
Start by washing the pumpkin thoroughly.
Cut it into half, remove the seeds and the cut the remaining pumpkin into medium-sized pieces. Keep aside.
Heat oil in a pan or kadhai.
Add fenugreek seeds, sauf seeds, onion seeds, minced garlic and green chillies and fry for a minute.
Now add the chopped pumpkin, turmeric powder and salt and give a quick mix.
Now cover and cook the pumpkin on medium heat till it gets tender and cooked. Keep stirring in intervals.
Check by inserting knife, if it inserts easily then it is cooked.
Add the coriander powder, red chilli powder, garam masala and stir well.
Add the chopped tomatoes and cover with the plate for 5 minutes again.
Check seasoning. Keep the flame on, for a few minutes to dry out excess water if any.
Garnish with finely chopped coriander leaves. Serve hot with Roti.