Kaddu Ki Tikiya (pumpkin Pattie)
Pumpkin is a very nutrient-rich food, and has an ample amount of vitamins A, E, C, D, iron, zinc, and calcium. Although, everyone don't like this vegetable easily, but as it is full of disease-fighting vitamins we should have it. There are several ways to add pumpkin in your regular diet such as curry, soups, desserts, salads and even as a substitute for butter. Today I am sharing my family most wanted recipe with you all, hope you all will also enjoy - Pumpkin Pattie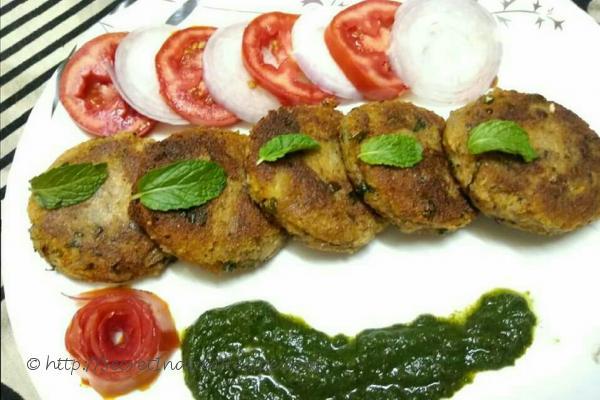 Ingredients:
Pumpkin (kaddu) - (peeled and grated)
Bread - 5 slices
Ginger - 1 tablespoon (finely chopped)
Garlic - 1 tablespoon (finely chopped)
Gram flour (besan) - 2-3 tablespoons
Red chilli powder - 1 teaspoon
Roasted cumin powder - 1/2 teaspoon
Dry mango powder (amchur) - 1 teaspoon
Oil - 2 tablespoons
Raisins as required
Salt to taste
Directions:
Heat 2 tbsps oil in a kadai, add ginger and garlic and sauté for ½ minute. Add gram flour and sauté lightly for 1-2 minutes.
Add red chilli powder, roasted cumin powder and dried mango powder and mix.
Add grated pumpkin and sauté till all the moisture evaporates. Transfer the mixture in a bowl to cool.
Add salt to the pumpkin mixture and mix well.
Take the bread slices, cut them into small pieces, add to the pumpkin mixture, mix and keep aside to cool completely.
Heat oil in a non stick pan for shallow frying the tikkis.
Apply oil to your hands and divide the pumpkin mixture into equal balls.
Stuff each ball with raisins. Roll the mixture into a ball again and press lightly to shape into a tikki or patties.
Shallow fry the tikkis in hot oil, until light golden brown on both sides.
Serve hot with green chutney.
Other Indian Recipes that you may Like !