Kadhai Murg (pot Chicken)
Kadhai murg is one of my favourite recipe which I learnt when I went to my mom's house last week and so I wanted to share the same with all. Its a delicious recipe that every non-vegetarian will love to eat. Its a famous North Indian dish with amazingly spicy and juicy flavours. It tastes best when served with butter naan, roti or tandoori roti.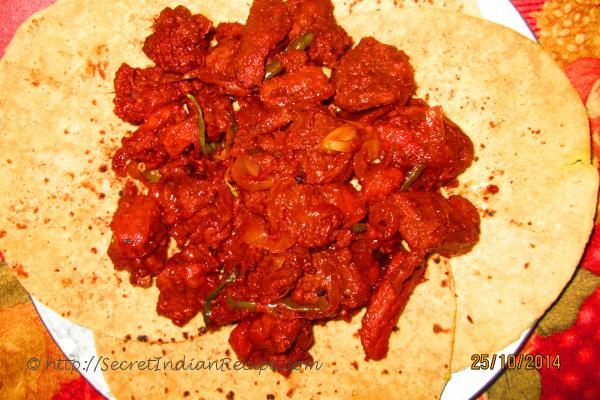 Ingredients:
1 medium sized chicken – 800 gm (cut into 12 pieces)
Oil – 6-7 tsp
Coriander seeds – 1 tsp
Red chillies – 3 whole dried
Fenugreek seeds – ½ tsp
Large onions – 3 (cut into pieces)
Garlic flakes – 15-20 (crushed and chopped)
Ginger paste – 1 tsp
Large tomatoes – 4(chopped)
Homemade tomato puree – ½ cup
Red chilli powder – 1 tsp
Ground coriander powder – 1 tsp
Salt – as per taste
Dry mango powder – ¼ tsp
Garam masala powder – ½ tsp
Chopped green coriander – ½ cup
Green chillies – 1-2 (cut into long slices)
Cream – ½ cup (optional)
Directions:
Put coriander seeds and whole red chillies on a pan. Keep on fire and roast lightly till it just starts to change colour. Do not make them brown. Remove from fire.
Crush the coriander seeds on a rolling board and pin to split the seeds. Keep the red chillies whole. Keep aside.
Heat oil in a a deep pot. Reduce heat. Add fenugreek seedsand whole red chillies and stir for few seconds till fenugreek seeds turn golden.
Add onion and cook on medium heat till light brown.
Add garlic and stir for 1 minute. Add ginger paste.
Add the coriander seeds, red chilli powder and coriander powder.
Add chicken and fry for 10 minutes on medium heat, stirring well so that the chicken attains a nice golden colour.
Add chopped tomatoes. Add salt, dry mango powder and garam masala powder. Stir till dry. Cover and cook for 5-7 minutes or till tender, stirring occasionally.
Add tomato puree and chopped green coriander. Cook for 5 minutes.
Add green chilli slices. Mix well.
Reduce heat. Add cream. Mix well for 2-3 minutes and remove from fire. Serve hot.
Footnotes:
You can also add some sugar if you don't like spicy dishes.
Other Indian Recipes that you may Like !