Kadhu Aur Soya Ki Sabzi (pumpkin And Soya Stir Fry)
A classic Tarla Dalal recipe- May her soul rest in peace. Tarla Dalal has taught me to accept the flavors of the North with such ease that at times it does not dawn to me that I am cooking something in the North Indian style. I really don't know if this style could be called North Indian because Soya is such a recent addition to the Indian cuisine. Nevertheless, we have accepted soya just like we accepted mushroom, corn and tofu.
It so happened that my mom got me a pack of nano soya chunks yep they make nano chunks of soya in Kerala and it looks too cute. My maid Bhagya got me a huge pumpkin from her village. She does not cook pumpkin she told me and so I dutifully took hers and agreed to share half the curry with her. Now the only curry we make off pumpkin is erissery which requires cowpea beans and coconut. I was in no mood to do this and that is when I stumbled upon this recipe. Since the recipe took care of my soya chunks I went ahead and made it. In fact I made it twice over the past 2 weeks which should tell you how good it was. And I am sure this recipe is to stay forever in this kitchen.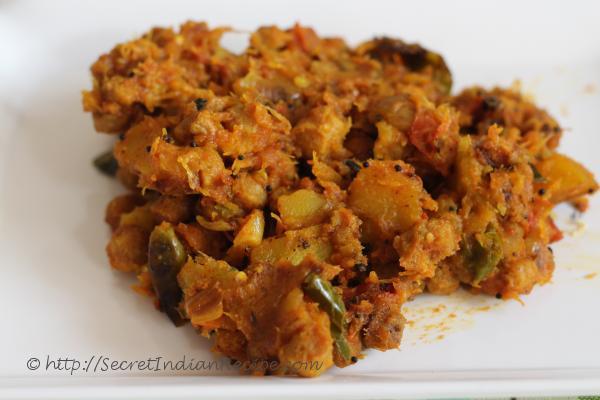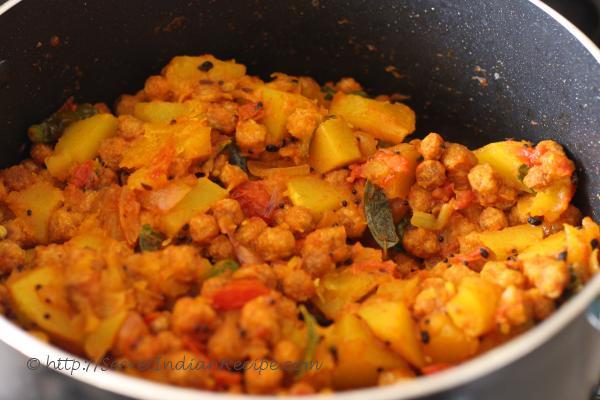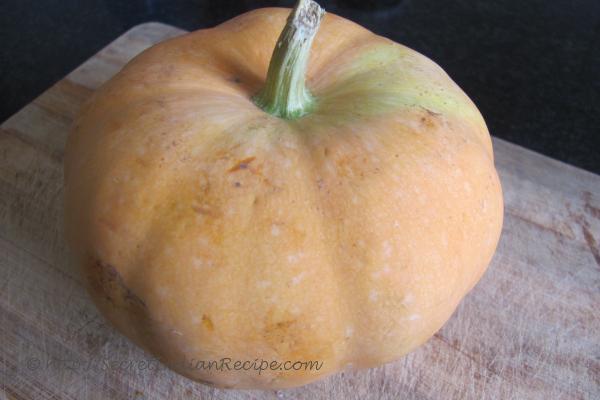 Ingredients:
Pumpkin- 300 g
Soya chunks- 180 g
Onion- 1
Green chilies- 4
Tomatoes- 3
Fenugreek seeds- 1 tsp
Cumin seeds- a pinch
Turmeric powder- 1/2 tsp
Chili powder- 2 tsp
Coriander powder- 1 tbsp
Amchur powder- 1 tsp
Asafoetida- 1/2 tsp
Oil- 2 tbsp
Salt- to taste
Water- 1 cup
Directions:
Peel and chop the pumpkin into medium size cubes. Heat oil in a pan and add the fenugreek seeds.
Add the cumin seeds thereafter and let both the cumin and fenugreek seeds brown a bit. Now add the sliced onions and slit green chilies.
Saute till the onions brown and add the tomatoes. Add salt and spice powders except amchur after the tomatoes are added.
Saute till the tomatoes are mashed. Now add the pumpkin pieces and saute them well so they get coated in the spices.
Cover the pan with a lid and let the pumpkin pieces cook for 5 minutes. After 5 minutes open the lid and add the soya chunks and water.
Cover the pan with a lid again and let it cook under medium flame. After 5-8 minutes the soya chunks would have cooked well.
Add the amchur powder and let the curry simmer for a minute or two. Serve the curry with rice or roti.