Kadhu Ki Sabzi (pumpkin Curry)
Pumpkin is only made in the form of errissery for onam at my place. I have recently realized that my hubby does love erissery. When my friend Shweta brought this dish for the first time to the institute I flatly refused saying it's something I don't like as a vegetable and frankly until then I did not know my hatred for pumpkin. But Shweta coaxed me to try this dish and I was clean bowled. So when I was with my hubby at her place I requested her to give me a live telecast of this recipe and that's how I ended up trying pumpkin without a coconut base. I find pumpkin too sweet for a vegetable and the texture reminds me this vegetable should be made into a halwa and nothing else. But it is easy to cook and now the kiddo loves it too. So here's an easy pumpkin curry.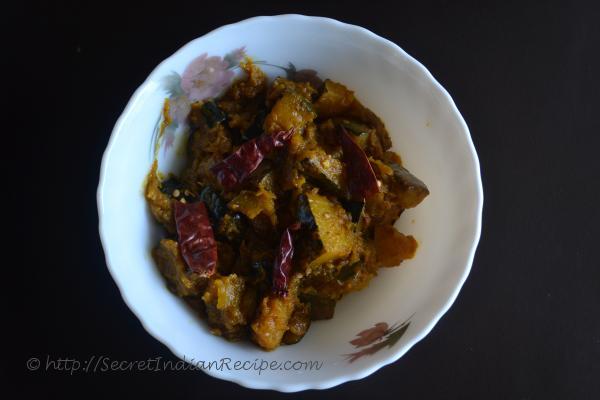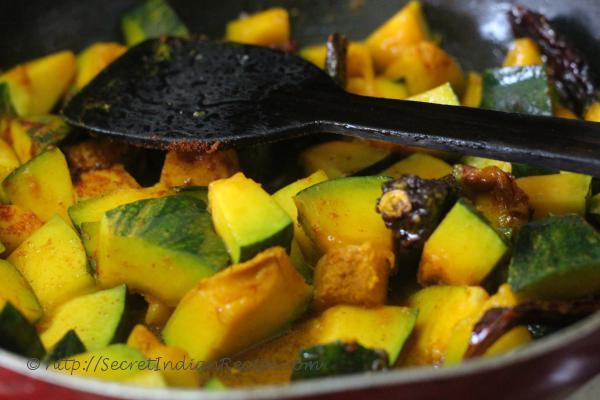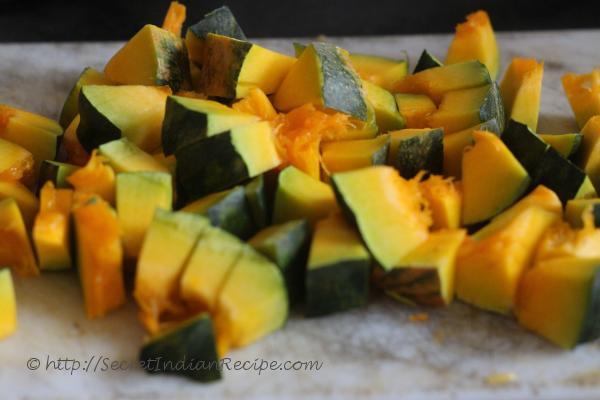 Ingredients:
Pumpkin- 200 g
Fenugreek seeds- 1 tsp
Turmeric powder- 1/2 tsp
Chili powder- 1 tsp
Garam masala- 1 pinch
Asafoetida- 1 pinch
Salt- to taste
Mustard oil- 2tsp
Jaggery- a size of lemon
Tamarind extract- 1 tsp
Dry chilies-3
Directions:
Remove the seeds and wash the pumpkin before cutting into cubes. Remember the skin remains don't peel it off.
In a pan, heat oil add fenugreek seeds and red chillies to the heated oil. Wait for them to splutter then add the pumpkin to it.
Dry roast it for a while without covering the lid. Add turmeric, red chilli, asafoetida and garam masala powder after the pumpkin has been roasted for at least 10 minutes.
Keep roasting the pumpkin along with the spices. After 5-7 minutes add salt and cover the pan with a lid. Add the tamarind now.
Check if the pumpkin is cooked in 10 minutes. If it has cooked, make some space in the center of the pan and add jaggery.
Jaggery will melt into the pumpkin juice and now stir the pumpkin once before switching off the flame. Serve hot with rotis or rice.