Kai Huli (coconut And Beaten Curd Sambar )
Kai huli is a typical Mangalorean coconut curry dish. It's a simple dish but the variation in taste that comes through the different kinds of vegetables that can be is used, with same base, is amazing ; try this dish with different vegetables each time. It's healthy and appetising .
This curry is one of the side dishes typically served on plantain leafs during poojas or Marriages .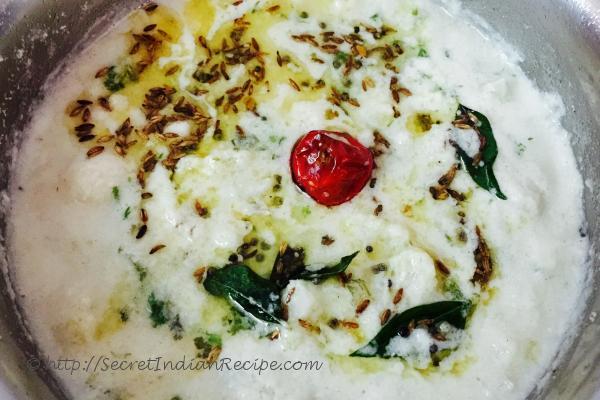 Ingredients:
MAIN INGREDIENTS
Cauliflower (cut into florets)
Peas Drumstick ( optional)
½ a cup of beaten Curd ( preferably sour )
GRAVY INGREDIENTS
Fresh grated Coconut (1 /2 a coconut)
Green chili :1 to 2
Jeera
Raw white rice : 1 tablespoon soak for 15 mts
SEASONING INGREDIENTS
Rai :mustard seed 1 tsp
Jeera :cumin seeds 1tsp
Urad dal 1tsp
Methi: fenugreek seed ½ tsp
Dry red chilli round or long dry
Curry leaf
Directions:
Pour some water into the vessel, then add the cauliflower florets and peas to it. Cook over a low flame .
As the florets and peas are cooking, grind the ingredients for the gravy (except the Jeera) Add very little water for making the paste in a mixer grinder. Once the coconut paste is partially grounded, add the jeera and grind them all together. (The texture of the paste should neither be coarse nor too pasty )
Once the paste is ready, check if the cauliflower is cooked well. Add the paste to the cooked vegetables, then let it cook. (As the the coconut gravy is cooked, it loses its rawness.)
Add the sour curd Once the curd is added, let it bubble for a bit before adding the seasoning of rai, jeera, urad dal methi and curry leaf. Garnish with the coriander leaf .
Footnotes:
Paste for the coconut gravy should neither too coarse nor too smooth . Once the curd is added, do not allow it to boil too much as it may make the gravy watery. Add the seasoning immediately, cook it a bit then turn off the gas. Serve with hot rice or chapathi . We also serve it with our authentic dish called kadabu (a variety of idli ) and shyamigai, recipes for which will be posted in the near future
Variations for the vegetable could be : > French Beans cut into one inch size can be added with cauliflower or it could be a combination of carrot and beans . > Mangalore southekai ( a family of cucumber) cut into cubes or triangle > Big white pumpkin ( cut into cubes ) > Drumstick > Karela (bitter gourd ) > Sheath beans > Ladies finger cut in 1 inch ( fry it a bit before adding it ) . > Yam > Raw jackfruit > Breadfruit You can make your own combinations and go ahead and get experimental :)