Kairee (raw Mango) Chi Shak ( Prawns With Raw Mango)
This is our traditional curry which is cooked in every Maharastrian family staying in Vasai Palghar coastal part of Mumbai.It is a non veg curry of prawns with Kairee which is combined with steamed rice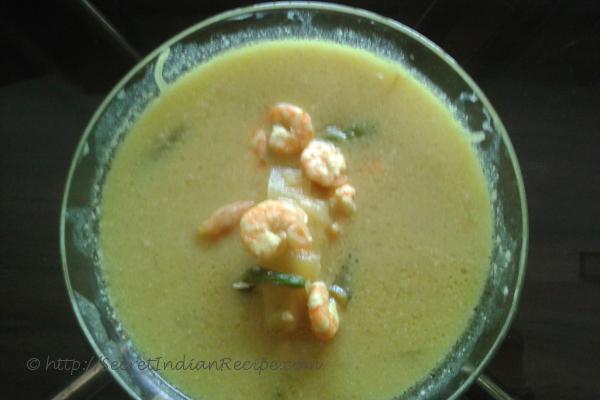 Ingredients:
One kairee (Raw Mango)
1 medium size Onion
1cup Coconut milk
10 to 12 Prawns
1 tsp Black Pepper
1 tbsp Besan ( Gram flour)
Salt and Sugar as per taste,
1 tsp desi Ghee
1 tbsp oil
Directions:
First peel off Kairee and make slices of it and finely chop the onion.
Put the pan on gas and heat 1 tb sp oil in it, fry the onion till it becomes soft
nowadd sliced kairee in it and cook for 2 to 3 minutes,
Then add turmeric powder and black pepper in it and again cook for 2 minutes.
After kairee becomes soft add coconut milk and besan paste and cook it for 5 to 7 minutes on low flame.
Add salt and sugar as per taste...after that add prawns in it and cook till prawns changes its colour and nicely cooked.
At the end add 1 t sp of desi ghee and turn off the gas. Your kairee chi shak is ready to eat..Try it with steamed rice .