Kairi Panha / Raw Mango Summer Cooler
Kairicha Panha is a traditional Maharashtrian raw mango drink . It is called Aam (mango) Panna in Hindi. One can find this healthy and refreshing summer coolant drink in almost every house in Maharashtra in hot summer months of March and April when , raw mango is easily available. A perfect thirst quencher , Kairi Panha is offered to guest as a welcome drink. It is also in the fixed menu of Chaitra Gauri Haldi kumkum and is served along with Kairichi Dal.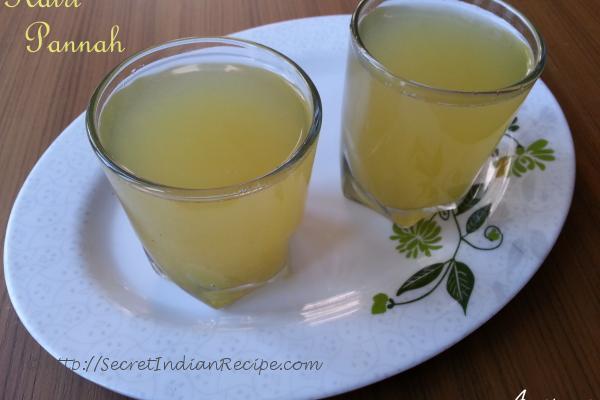 Ingredients:
2- Raw Mango / Kairi
1/2 cup Jaggery ( powdered or grated)
1/2 tsp green Cardamom powder
Directions:
Wash the raw mangoes, peel them and place them in a vessel. Put this vessel inside a cooker with water and cook the mangoes for 2-3 whistles or until they are soft.
Let the mangoes cool down and then remove the seed and collect the pulp and weigh it. I got 1/2 cup pulp from 2 mangoes. weigh equal amount of grated or crushed jaggery and blend the two by mashing with hand( traditionally done this way), or you can put them in a blender, but color will turn whitish, if using a blender, you may use a manual whisker instead to do so.
In the end , add the cardamom powder, mix well. The thick pulp is ready. You may refrigerate the pulp and use as per need.
While serving , dilute the pulp with water. You can fill about 1/4 of a glass with the pulp and top with cold water , ( if making for more people, add 1 full glass of pulp to 3 glasses of water ), stir well and the super refreshing and delicious drink is ready !
Footnotes:
You may add fresh mint leaves while serving as a variation