Kaju Barfi/ Katli (cashewnut Fudge/ Fudge Recipe)
Kaju barfi or kaju katli is an Indian sweet recipe made out of cashewnuts. It can be preserved for 15 days and tastes delicious.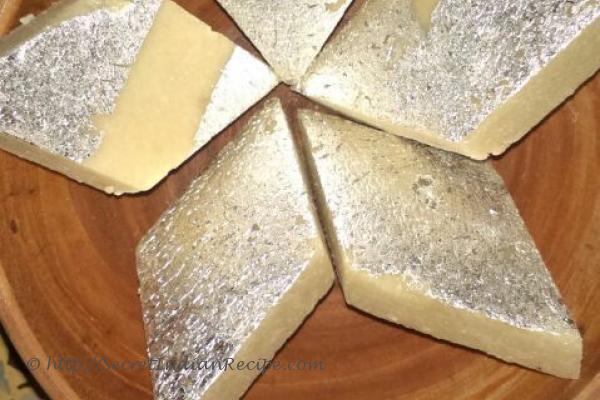 Ingredients:
kaju (Cashew) - 2 cups
Sugar - 1 cup (grounded)
Ghee - 1 tablespoon
Milk - 2 tablespoon
Cardamom powder - 1/2 tablespoon
Silver paper for garnishing
Directions:
Soak kaju in water for 1 hour and then grind it in fine paste
Boil the sugar with 1 and 1/2 cup of water to make chasni
Heat ghee in a karahi and pou the kaju paste and milk and saute till the required consistency is acheived. Add the sugar syrup and then cook till the mixture becomes thick.
Add the cardamom powder and pour the entire mixture on a greased plate. Cut in diamond shape. Cover with silver paper (Varkh) and serve.