Kaju Katli (sweet Cashew Nut Fudge)
Kaju Katli or Kaju Bafri is probably one of the most expensive mithais. My grand mom always prepared this at home, surprisingly it's easy to make and tastes great.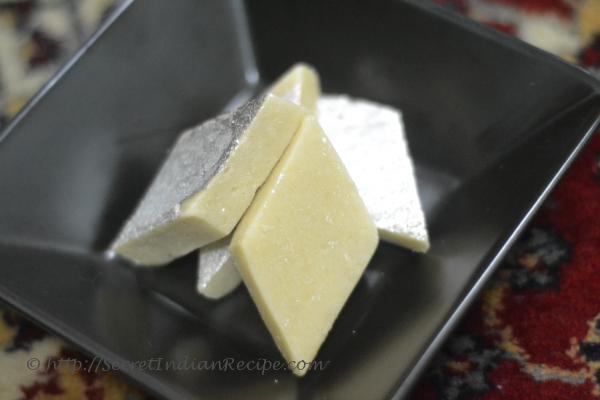 Ingredients:
3 Cups Cashew Nuts
1 &1/12 Cup White Sugar
1 Tbsp Ghee
1/2 Cup water
Silver Varq (Few sheets)
5-6 Saffron strands (Kesar)
Directions:
In a thick bottom pan, heat water and sugar on medium flame
While the sugar syrup is cooking, grind the cashew nuts into a fine powder. Do not add any water just dry grind them
Add saffron to the sugar syrup and let it simmer till it reaches to string consistency stage. Now add in ghee and stir
Add the powdered sugar and keep stirring continuously for a few minutes till the mixture becomes thick and gooey
Take a small portion in your hand to check if it can be molded into any shape. If it can be molded remove from heat and let it cool
When cool, place it on a plain greased surface (grease with ghee) roll it out to 1 cm thick round.
Place silver varq on top and cut into diamond shapes