Kaju Matar Curry (cashew And Green Pea Curry)
Kaju matar is a good option when you do not have any vegetable in your refrigerator. All the ingredients are usually available in your home and it is a good side dish to entertain surprise guests.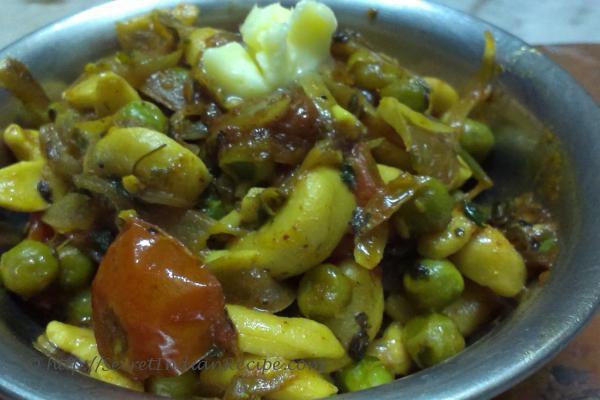 Ingredients:
Kaju (Cashew) – 100 grams
Matar (green pea) – 100 grams
Onion – 2 pieces (sliced)
Green chilli – 2-3 pieces (sliced)
Garlic cloves – 7-8 pieces (crushed)
Tomato – 1 piece (chopped)
Refined oil – 4 tablespoon
Turmeric powder – ½ tablespoon
Red chilli powder – ½ tablespoon
Kasuri methi (dry fenugreek leaves) – 1 tablespoon
Garam masala powder - 1/2 tablespoon
Green coriander leaves - 1/4 cup (chopped)
Directions:
Boil Kaju and matar and drain the excess water.
Heat oil in a karahi and add onion. Saute for 2-3 mintues and then add crushed garlic and green chilli. Fry till the onions become slightly brown.
Now add chopped tomatoes, turmeric powder, red chilli powder and kasuri methi and fry till the masala leaves the oil.
Add boiled kaju and matar, salt, garam masala, and green coriander leaves and mix. Cook on low heat for 2-3 mintues.
Finally add butter and serve hot with chappati.