Kaju Posta Wali Chicken (chicken With Cashew And Poppy Gravy)
Chicken with cashew and poppy gravy is the most simplest way of cooking chicken. It does not require any expertise. Any first timer can also cook it easily. It needs very less oil as there is no frying in the process. The addition of cashew and poppy gives it a unique taste as well as it enhances the nutrition value.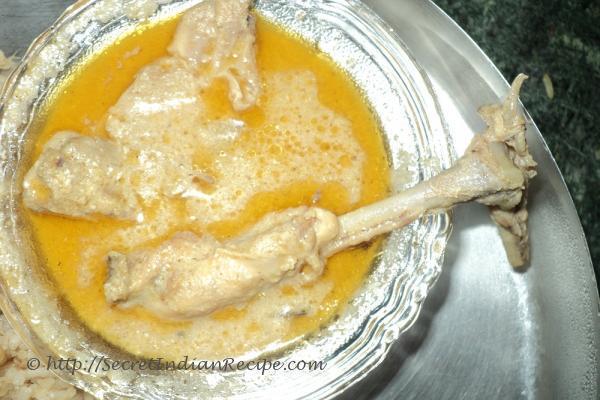 Ingredients:
Chicken 250 grams (9 ounce)
Onion paste 1 onion
Garlic paste 1 tablespoon
Ginger paste 1 tablespoon
Cumin powder 1/2 tablespoon
Red chilli powder – 1/2 tablespoon
Cashew paste 2 tablespoon
Poppy seed paste 2 tablespoon
Salt 1 tablespoon
Refined oil 4 tablespoon
Ghee 1 tablespoon
Directions:
Marinate the chicken with onion paste, ginger – garlic paste, cumin powder, red chilli powder, cashew and poppy paste for 30 mintues
Afterwards heat the oil and ghee in a karahi and pour the marinated chicken in it.
Add salt and let it cook on low flame for 15-20 mintues.
The chicken will release its water. Stir occasionally.
After 20 mintues, add ½ cup of water and let it cook for another 10 mintues. Check if the chicken has become tender. If so, take it down and serve with paratha or Naan.
Other Indian Recipes that you may Like !