Kakrol Tarkari (teasle Gourd With Fish Head And Soya Nuggets )
Few months ago I visited my Didibhai's (cousin)home.She cooked this dish for me and my Baba (father ).It was just awesome. All the flavours combined so wonderfully.I got the recipe from her and decided to make it at my home.
Actually my jiju(brother in law ) ,whom I call Dadabhai,loves to eat different types of food. He loves variety in the menu.So my sis tries to innovate new types of food.This dish is also a result of her experiments.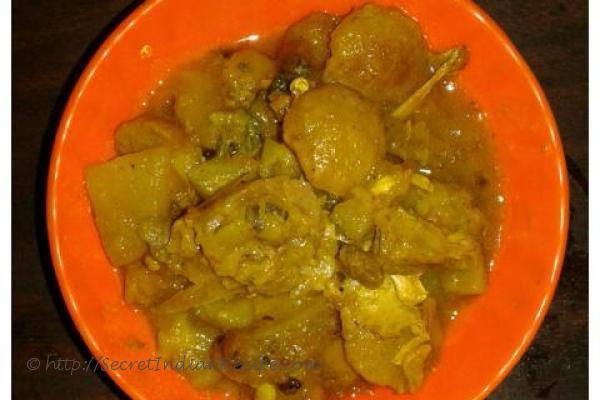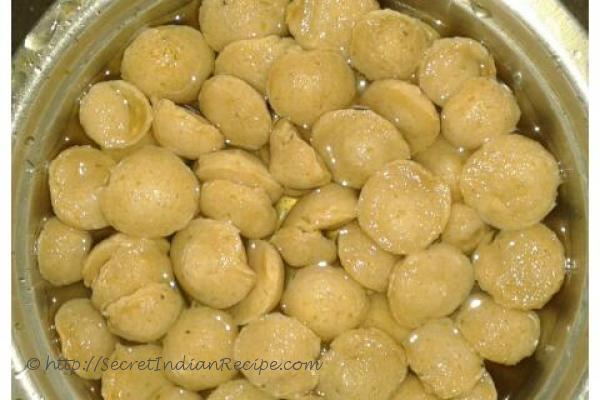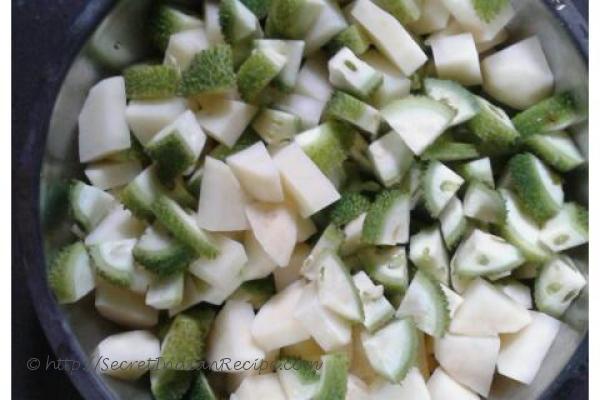 Ingredients:
Teasle gourd -1and 1/ 2 cup (cut into cubes)
Potato -1 and 1 / 2 cup (cut into cubes )
Rohu fish head -1 (big size )
Fenugreek seeds -5
Bay leaf -1
Red chilli powder - 2 teaspoons
Turmeric powder - 3 teaspoons
Cumin powder -1 teaspoon
Coriander powder -1/2 teaspoon
Sugar -1/2teaspoon
Salt -as per taste
Tomato ( chopped ) - 1 / 2 cup
soya nuggets(boiled )-1 and 1 / 2 cup
Green chillies -4 (cut lengthwise into two pieces )
Mustard oil - 1cup
Garam masala powder -1 teaspoon (use only green cardamom and cinnamon )
Directions:
At first mix fish head with 1 teaspoon turmeric powder and salt. Heat 3 tablespoons of oil in a wok till smoky.Fry the fish head on medium flame till it becomes yellow from all sides. Take it in a bowl.
Now again heat 5or6 tablespoons oil in a kadhai. Add teasle gourds, potatoes, green chillies ,tomatoes and soya nuggets.Then add salt . Stir well. Cover it will a lid fir 5 -7 minutes.
Then open the lid and cook till the potatoes and teasle gourds turn soft on medium flame.
When they are properly cooked add the fish head and still well. Break the fish head into pieces with the help of a spoon. Then switch off the gas.
Make a masala mixture with red chilli -cumin -coriander -turmeric powder and 1/2 cup water.
Take another wok and heat 1and 1/2 tablespoons of oil in it.Then temper with fenugreek seeds and bay leaf. Stir for a few seconds. Add the masala mixture .Stir it for less than a minute on medium flame .
Now add the vegetable and soya nugget mixture in the wok.Stir.Cook for 5 minutes more on medium flame .
Add 3 cups of water .Also add sugar .Let it boil for 8-10 minutes on medium flame. Sprinkle garam masala powder.Stir well.Then switch off the gas
Take it in a bowl ........ENJOY.
Footnotes:
Serve with plain rice or roti.
Don't make it dry. It will be like a curry.