Kala Jamun (a Punjabi Diwali Recipe)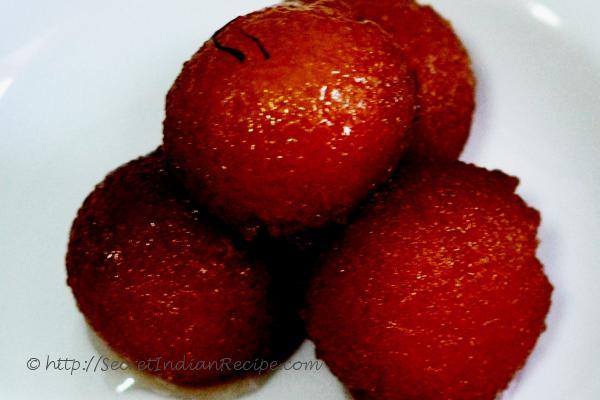 Ingredients:
For Kala Jamuns
2 tbsp Maida
1.5 Cups of good quality soft Khoya (Hariyali khoya)
2 Tbsp corn flour
1 Cup of good quality grated paneer
For Syrup
3 cups sugar
1 tbsp lime juice
2 cups water
few stands of saffron
Oil for deep frying
Directions:
In a bowl, take the khoya and knead using hands till soft and no lumps remain.
In another bowl mix paneer, corn flour and maida. Add this mixture to the khoya
knead everything till soft and smooth
Form 25-30 small round balls and set aside.
Heat sugar and water and bring to boil
Add lime juice and reduce the flame. Let the syrup slowly simmer
Add a few stands of saffron to the syrup
Now heat oil for deep frying
When oil is medium hot start frying the jamuns
Note, when you add the jamun to hot oil, they should gradually and slowly float up to the top
Fry them on low heat till they turn dark brown in colour
Do not fry on high heat as they will turn brown faster from the outside but will remain raw from the inside
When they are cooked and are the right colour remove them on a paper towel
Let them remain there for few secs and add them to the sugar syrup
The sugar syrup needs to be hot
Continue doing this with all jamuns
when done cover the jamuns in sugar syrup and allow them to soak up sugarrry goodness
When you put in the last batch you may remove the first batch of jamuns from sugar syrup.
Serve hot or cold
Footnotes:
When serving Kala jamuns they are served dry without the syrup